WatchGuard® Technologies has announced its ANZ 2017 Partners of the Year at the company's annual partner conference staged last week at the Outrigger Laguna Phuket Beach Resort.
The 2017 Partner Awards recognise channel partners that met or exceeded assigned revenue targets, such as license sales and maintenance deals, and created successful customer relationships through the delivery of WatchGuard-based solutions for the period ending 31 December 2017.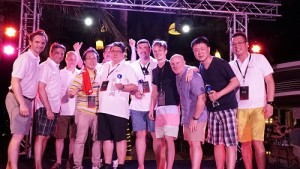 Sydney-headquartered Greenlight ITC won overall honours as Partner of the Year while New Partner of The Year was awarded to Auckland-based Tier 4.
WatchGuard's ANZ Distributor of the Year award was scooped by Dicker Data while Systemnet attained the Marketing Program of the Year awards and Melbourne headquartered M2K Communications won End User Project of the Year.
More than 130 partners from across the Asia Pacific including Australia, China, Japan, India, New Zealand, South Korea and the ASEAN countries, participated in the three-day conference which included presentations from WatchGuard's global leadership team, product demonstrations and one-on-one vendor partner executive meetings.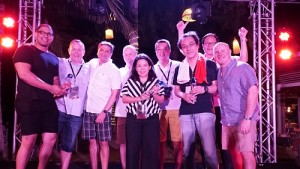 In addition, Paul Proudfoot, Director of New Zealand headquartered partner, Manux, shared his MSSP journey and strategy for success in working with WatchGuard Technologies.
Several team-building highlights included island hopping by speedboat, a golf tournament and a Thai cooking class.
WatchGuard Technologies hosted the annual awards dinner on the hotel's private beach where dancers from five regions of Thailand dressed local costumes and accompanied by local drummers entertained attendees.
Mark Sinclair, ANZ Regional Director, WatchGuard Technologies, said, "We are thrilled to formally recognise our partners' achievements through these awards.  These organisations are outstanding examples of how partners across Australia and New Zealand are leveraging WatchGuard solutions in innovative and progressive ways to secure our end user customers against the ever-constant threat of cyber attack.
"At the same time, our customers are increasingly looking to work with stable and truly independent partners in the space which have the latest skills and industry-leading capability for delivering solutions that enable them to realise exceptional returns on their WatchGuard investment.  We look forward to working closely with all our partners in in the year ahead to continue to exceed customer expectations and provide exceptional engagements."
WatchGuard works with partners through the WatchGuard Partner Program providing the software, training, support and services which partners need to achieve outstanding results in their particular markets and areas of specialisation.
About WatchGuard Technologies, Inc.
WatchGuard® Technologies, Inc. is a global leader in network security, providing best-in-class Unified Threat Management, Next Generation Firewall, secure Wi-Fi, and network intelligence products and services to more than 80,000 customers worldwide. The company's mission is to make enterprise-grade security accessible to companies of all types and sizes through simplicity, making WatchGuard an ideal solution for Distributed Enterprises and SMBs. WatchGuard is headquartered in Seattle, Washington, with offices throughout North America, Europe, Asia Pacific, and Latin America. To learn more, visit WatchGuard.com
For additional information, promotions and updates, follow WatchGuard on Twitter: @WatchGuard; on Facebook: https://www.facebook.com/watchguardtechnologies; or on the LinkedIn Company page: http://www.linkedin.com/company/watchguard-technologies.  Also, visit our InfoSec blog, Secplicity, for real-time information about the latest threats and how to cope with them at: www.secplicity.org