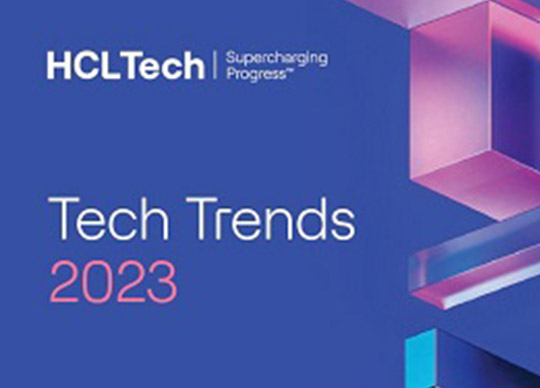 HCLTech has released the 2023 edition of its Tech Trends report providing an in-depth assessment of the technologies that will shape digital transformation and enable modern enterprises to stay ahead of the curve.
"HCLTech has been committed to propelling digital transformation journeys for its clients and expanding its strategic ecosystem partnerships, enabling competitive differentiators across new and emerging technologies," said Kalyan Kumar, Chief Technology Officer and Head of Ecosystems, HCLTech. "We've put together the top 10 technology trends to watch out for in 2023 that will help enterprises be future-ready and build resilience within their organization to thrive in any new normal."
The report names the following trends that are expected to play a crucial role in accelerating three critical characteristics – flexibility, speed and scale – for businesses in the post-pandemic digital-first era.
Democratization of AI: 2023 will witness wide-scale democratization of AI – from enabling chatbots to integrating into the chip industry for developing AI-ready hardware.
Accelerated shift to multi-cloud: Progression to multi-cloud will accelerate significantly in 2023. Sovereign and industry clouds will be more widely accepted, with more than half of the enterprises using industry cloud solutions by 2027.
Cybersecurity transformation driven by quantum technologies: Industrial applications of quantum technologies will be realized in quantum-secure communications and optimizing machine learning models with the help of quantum machine learning.
Low-code, no-code platforms for super-app development: By 2024, low-code development will account for more than 65% of application development activities.
5G applications go mainstream: 5G will become the de facto standard in the coming years, with increased collaboration between telecom companies and enterprises leading to innovative 5G applications growing manifold.
Rise of the 'verse': With technologies like 5G, AI and extended reality, organizations will continue to distinguish themselves by creating immersive experiences in the coming years.
Blockchain to drive web 3.0: In 2023, we can expect the emergence of a more web 3.0-focused blockchain that will feature cohesive interoperability, automation through smart contracts and seamless integration.
Technology to supercharge sustainability: We will see increased sensitization toward green practices and how technology can be at the intersection to achieve sustainability-centric performance metrics and ESG goals.
Technology to elevate employee experiences: For nearly 50% of HR leaders globally, employee experience has become a top priority. Cutting-edge technologies will drive better experiences – from hiring and onboarding to upskilling and employee engagement.
Improved humanoid robot collaboration: Cobots or collaborative robots with safe behavior around people will gather pace in the coming few years. Computational empathy will support this trend by detecting emotions and responding aptly.
You can read the full report here.