In Q3 2021, The Western European PC market (desktops, notebooks and workstations) recorded 16.3-million-unit shipments, which was up 21% annually.
The region, battered by multiple waves of COVID-19, continued to see higher demand for PCs owing to the relatively fluid situation surrounding the pandemic.
While supply constraints are expected to linger throughout 2022, Canalys expects the region to remain a growth spot for PCs as the relative uncertainty pushes the need to spend on technology. HP regained the top spot after three quarters in the second position, shipping 4.4 million units and taking a 27% share.
Lenovo came in second, shipping 4.1 million units to take a 25% share. Dell, Apple, and Acer rounded up the top five with 14%, 12% and 8% shares respectively.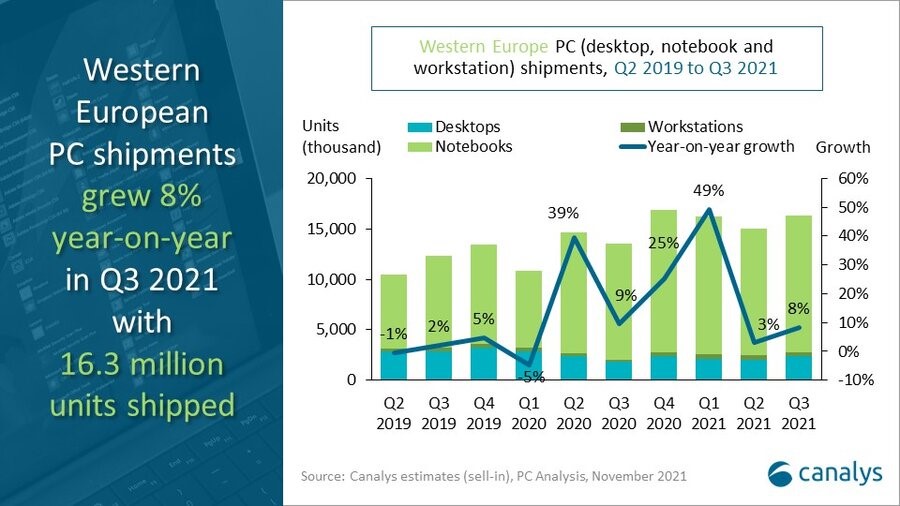 Western Europe's PC market has been trending upwards for six consecutive quarters.
"The numbers prove a continuous demand for PC devices," said Trang Pham, Canalys Research Analyst. "This isn't just about fulfilling backlog orders anymore, but about managing a longer-term demand and this is good news for every single vendor operating in the market. However, we're now seeing a marked shift to commercial, as the segment grew 31% versus 11% in consumer. Looking ahead, commercial demand should sustain growth well into 2023. While Western Europe has been ahead of most of its peers in operational digitalization, especially when it comes to hybrid working, there is a definite need for faster and better-spec'd devices, as companies look not only to insulate themselves from future disruptions but also start looking seriously at their ESG goals. Shipments to consumers will naturally slow down as saturation increases and device lifetimes come into play," added Pham.
The top two vendors – HP and Lenovo – performed marginally close to one another, with 27% and 25% market share respectively. HP regained the leadership in Western Europe with 4.3 million units in Q3. Since Q1 2021, HP had seemingly prioritized shipments to its biggest market of North America, while losing market share in Europe.
However, Q3 2021 reinforced HP's commitment to Western Europe, where it grew 24%, despite overall global shipments falling by 6%. Lenovo's performance in the region has been impressive too, as shipments were up 22%, falling only slightly short to keep a hold of the top spot. Acer had flat annual growth due to a decline in Chromebooks where it has the highest market share. The decline stems from demand close to saturation, as well as the unfavourable comparison to a phenomenal Q3 2020.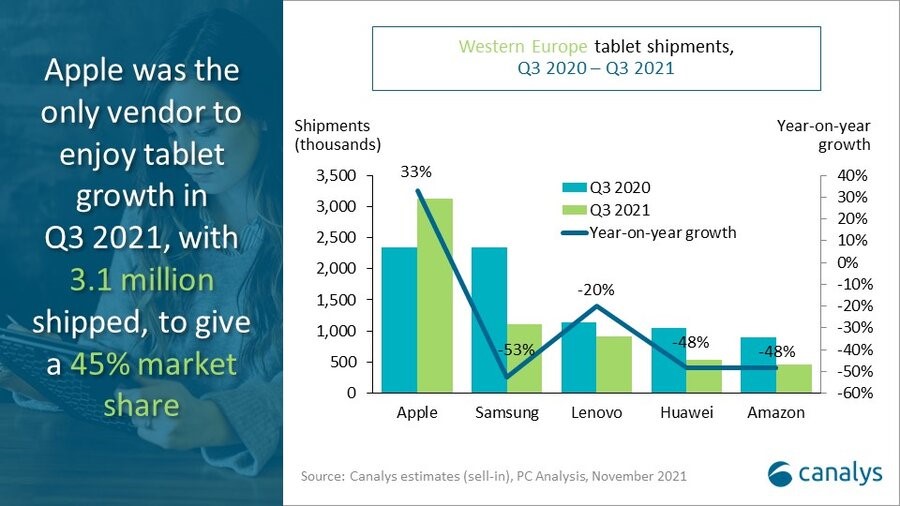 Tablet shipments in Western Europe shrank 20%, with 6.9 million units shipped.
"In Q3 2020, tablets had an extraordinary performance as they filled a gap created by PCs shortages. They are now seeing a corrective decline as penetration within the primary userbase saturates," said Pham. Despite the contracting market, Apple appeared to be unaffected. In recent quarters, Apple has increasingly widened its leadership in the market with other tablet vendors. In Q3 2021, Apple saw a 33% year-on-year growth while the other top five vendors recorded double-digit declines. The iPad's consistent performance today is thanks to Apple's dedicated focus on the tablet market. Apple continues to launch newer iPads throughout the year catering to more customer segments. Despite the crunch, Apple's vertically integrated supply chain has insulated it well from bearing the brunt of the corrective decline," said Pham.
The future of working in Western Europe remains in the doldrums, as new restrictions are imposed ahead of the holidays in the Netherlands, Belgium and Austria. "Despite being early to rollout vaccines, certain countries in Western Europe have lagged behind in terms of vaccination rates," said Pham. "With a possible fourth wave looming, the region's economic recovery is under serious threat. Any setback is likely to impact the revival of not just SMBs, but also other businesses that have just begun to re-open."