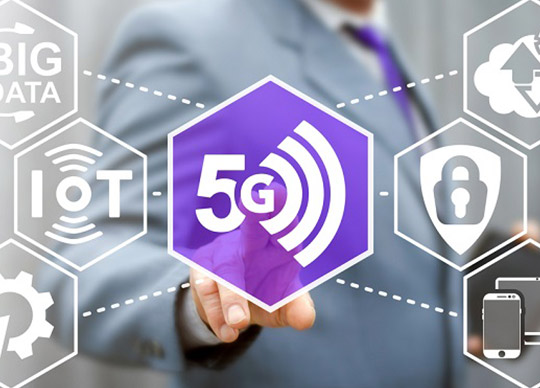 Something important is happening at the network edge. Possibilities are stirring that involve edge computing and IoT, driven by the all-important underlying technological enabler that is 5G.
For one thing there's Private 5G, and other enterprise-centric opportunities. There is potential here when it comes to unlocking the power of edge-enabled applications, and a sense that many brand-new vertical industry use cases lie just around the corner.
"This is an important time for 5G technology," says Jeremiah Caron, Global Head of Research & Analysis – Technology Group with independent analyst firm GlobalData, speaking at a recent NetEvents virtual discussion forum. "In the run up to 2027, we project very healthy growth for mobile 5G services revenue worldwide."
Caron accepts that, to date, 5G growth has been slow: "I think everyone knows of operators who have deployed Non-Standalone 5G and the troubles they've had in monetizing that investment over revenue they were already getting with 4G," he concedes. "Now we are seeing an uptick in the adoption of 5G both on the consumer side and also on the enterprise side. We expect that to continue over the next few years."
Caron is excited by moves to Standalone 5G, made so far by around 25% of mobile operators worldwide. "These are networks with a true 5G core, as opposed to a radio access network overlaid on top of existing 4G infrastructure. This will have an impact on latency, and on raw performance as well as efficiency and capacity. Also in the pipeline from the 3GPP standards body is 5G Advanced and another step change in coverage, capacity and spectrum usage: "It will have a very low latency capability so operators can offer better consistency in terms of bandwidth guarantees and application priorities," he points out. "Its network slicing capability will enable product prioritization, absolutely essential for supporting enterprise applications. We're talking IoT at a massive scale and a new era of edge computing."
Caron thinks that these developments in 5G capability will help revive a slow IoT market and spark action in edge compute as well: "IoT has lost its lustre over the past couple of years, for a pretty good reason," he says. "It was a slow build as a revenue generator for suppliers in the marketplace. Now the numbers are going up. What's interesting is how the scale of deployments is so much bigger than it used to be."
To broaden the discussion, Caron turns to a panel of expert names to hear how 5G developments are being embraced by the tech sector. Dr Srinivas Bhattiprolu is Global Head Advanced Consulting Services & Pre-sales for Nokia's Cloud & Network Services division. He anticipates three types of use case in 5G's next wave: "The first is enhanced mobile broadband, the second is ultra-reliable low latency communication and the third is massive machine type communication uses," he predicts.
"On the back of this, it's time for CSPs to launch new enterprise services. So far only around 30% of CSPs have gone live with Standalone 5G. Monetisation can come from things like latency, security and quality of service."
David Joosten, Regional Director, Vodafone Americas and Partner Markets with Vodafone Business believes many operators are waiting for enhancements like slicing to catapult them into new applications. He sees much excitement across verticals, but especially in manufacturing, particularly automotive: "We have use cases with BMW in Leipzig, and others planned in the UK with Ford," he explains. "There's also healthcare, where we implemented the first 5G hospital in Dusseldorf. But it is still early days, and a lot of business leaders still need to figure out what this new technology is going to give them."
Lakshmi Mandyam is VP Product Management & Partner Ecosystems, Service Provider & Edge BU with VMware. She likes to look at the issue from a user perspective: "This might be, say, a large automotive manufacturer which historically has operated many siloed systems for various operations," she says. "What they've been looking for is a platform that scales and allows them to drive efficiencies and operational capabilities with automation. It would feature things like zero touch provisioning where they can remotely deploy and manage their hardware and their software applications."
She cites the example of Audi who worked with VMWare to consolidate all their factory compute onto a single platform, thus gaining from an efficiency and manageability perspective.
"Some 5G use cases require low latency, some will require higher bandwidth," notes Anit Lohtia, CTO, 5G Strategy Lead with Dell Technologies. "What we're seeing is people starting to look at how they can solve different business problems. And some of them require minimal bandwidth, like oil rigs where you are just monitoring whether a pump is on or not, or whether a flow rate is meeting the specification. But use cases like that add a lot of value in terms of solving a business problem."
When the time comes for 5G Advanced, Joosten of Vodafone Business is excited about the potential to build additional applications and technologies on top of basic services: "You can start to add AI, VR and AR," he enthuses. "You start with connecting things and then build out the intelligence and the additional applications to IoT. That's when the technology becomes massively powerful."
Bhattiprolu of Nokia believes this is a vital evolutionary step for CSPs who want to move on from being mere connectivity providers: "Or there won't be much of a growth in their business," he warns. "I think they will have to eventually become application providers, and that's where the real value comes from. That's where we'll see incremental ARPU. CSPs are looking at investing more in modernizing their operations infrastructure. They're also modernizing their applications."
VMware's Mandyam gives a nod to the additional environmental and efficiency benefits of 5G Advanced: "Energy efficiency and carbon footprint have become supremely important issues," she notes. "It's top of mind matter at C-level. Companies want to simplify their operations, and also spend less energy on their operations. Take the example of Audi which had hundreds of industrial PCs spread out everywhere. They're looking to consolidate that with virtualized containerized functions on a centralized management platform, without sacrificing the scalability or real time capabilities. This kind of consolidation and automation at the edge requires very specific capabilities that take advantage of real time hardware consumption.
Problems as diverse as food waste and energy consumption can be tackled, using some of these edge capabilities."
Chris Purdy is Co-Chair DSC at MEF Forum & Head of Service Assurance Strategy with Spirent Communications. He believes that the real killer applications for 5G won't the recognisable applications we already know and love: "They'll be ones that won't work on a 4G network," he says. "With 4G versus 3G, the difference was bandwidth, and with 5G it's going to be latency. There are a ton of applications, from augmented reality to interactive real time gaming to factory or aeronautics control systems, that simply won't work on a 4G network because of latency issues. With augmented reality, if you take a video feed and send it over a 4G network with 50 millisecond latency, the delay will make the application useless. Similarly, long delays or unreliable connectivity in factory or transportation control systems will render them useless, if not dangerous. I believe strongly that when we look back five years from now, we're going see 5G as every bit as world-changing as 4G was."
First, says Lohtia of Dell Technologies, the industry must address the key issue of complexity: "This is one of the barriers to IoT adoption we have seen over the last 10 years," he believes. "Complexity has been involved in delivering solutions. As an industry we need to find a way where we can abstract this away so that operational managers without in-depth expertise in 5G technology can use it to solve business problems. At that point, massive deployment of these solutions will be possible."
Last word to Mandyam of VMware: "Everything we do at VMware is aimed at simplifying deployment and operation at end user level, and we're working on the operator side to simplify their ability to deliver these kinds of services. We're trying to think about how to simplify the management and operation of these kinds of applications."
Featured Speakers:
Analyst Chair: Jeremiah Caron, Global Head of Research & Analysis – Technology Group, GlobalData
Anit Lohtia, CTO, 5G strategy Lead, Dell Technologies
Dr Srinivas Bhattiprolu, Global Head Advanced Consulting Services & Pre-sales, Nokia Cloud & Network Services, Nokia
Chris Purdy, Co-Chair DSC at MEF Forum & Head of Service Assurance Strategy, Spirent Communications
Lakshmi Mandyam, VP Product Management & Partner Ecosystems, Service Provider & Edge BU, VMware
David Joosten, Regional Director, Vodafone Americas and Partner Markets, Vodafone Business