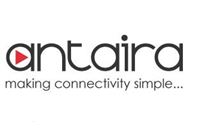 Antaira Technologies is proud to introduce the STW-61xC industrial wireless serial device server series that encompass bridge mode and Wi-Fi direct technology solutions.
Antaira Technologies' new STW-61xC series allows users to use a bridging mode to establish a simultaneous three-way communication path within a single unit (serial-to-wireless, serial-to-Ethernet, and Ethernet-to-wireless). This allows any serial and Ethernet device to link to a wireless network to form a three-way communication. The STW-61xC series can communicate on a 2.4GHz bandwidth and operate on a wide voltage input range of 9~48VDC which is IEEE 802.11b/g/n compliant with WPA, WPA2 and 802.1x .
The STW-61xC series adopted the Wi-Fi protected setup technology to provide a Wi-Fi direct EZ setup solution for point-to-point wireless networking. By only pressing the STW-600C units' front "push button" for a few seconds, it automatically builds a "serial-auto link" within the STW-61xC units and allows both connected serial devices to establish communication.
Model options for the STW-61xC series include STW-611C and STW-612C. The STW-611C includes one port and the STW-612C includes two ports of RS232/422/485 (software selectable) serial which can wirelessly transmit data at speeds up to 921.6Kbps, and both models have one port of 10/100Tx Ethernet. These models provide either a web console or a windows utility for device configuration which allows users to have a different support mode of operation, such as, virtual COM, TCP/UDP server/client, and a tunneling (pair connection) solution.
The STW-61xC series can be used in various market applications. For example, factory automation can use the device in a remote wireless machine control within CNC manufacturing. The transportation industry can use the device to extend the wireless network connectivity with any serial and Ethernet equipment in a light rail station. In the security market, the device can be used to remotely monitor a wireless network for access control and video surveillance systems. The oil/gas/mining and water wastewater markets can use this unit for industrial control in process control automation. Lastly, the medical field can use this unit to wirelessly apply real-time data transmission.
The STW-61xC series also features a compact IP50 rugged aluminum casing and DIN-Rail mounting design that is built to withstand industrial networking hazards like shock, drop, vibration, electromagnetic interference and temperature extremes (-10° to 60° C). The dimensions of the unit measure 47 mm x 110 mm x 90mm and the unit weight is 500g (1.1lbs).
For more details about Antaira Technologies' serial connectivity solutions, please feel free to visit our website at www.antaira.com.tw