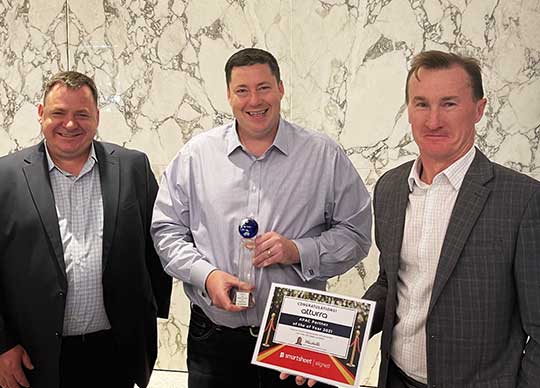 Atturra took home the Smartsheet Partner of the Year award for APAC announced at the annual Smartsheet Aligned APAC Partner Summit.
Over 65 participants attended the virtual event for Smartsheet's APAC partner ecosystem, sharing knowledge, best practices, and insights into the increasingly popular work management platform.
Talking after the award ceremony, Jason Frost, Executive General Manager, Atturra Data and Integration (formerly ANATAS), said: "We have seen some exciting wins in the past 18 months with Smartsheet. Their Project and Portfolio Management solutions are best-in-class and as one of their key partners in the APAC region, this award further demonstrates the strong relationship and the optimism (that) Smartsheet and Atturra share."
The Bellevue, Washington-based company opened its Sydney office early in 2020 to expand their presence across the Asia-Pacific region, appointing former Tableau Australia chief Nigel Mendonca as Vice President, Asia Pacific.
"The last 18 months of our APAC journey have been phenomenal," Mendonca said. "The pandemic has increased the adoption of collaboration and project management tools. As a result, we onboarded 12 partners across APAC, grew our Australian team by 10X and were ranked #15 in the Best Places to Work in Australia by WRK+."
Commenting on Smartsheet's APAC GTM strategy and Partner awards, Michelle O'Shanassy, Senior Channel Manager APAC from Smartsheet, said, "We are constantly expanding in the APAC region with service-led partners. Atturra is one of our most diverse partners, bringing both geographic coverage and domain expertise in Financial Services, Utilities, and Government. They have become a key part of our go to market success across the region."