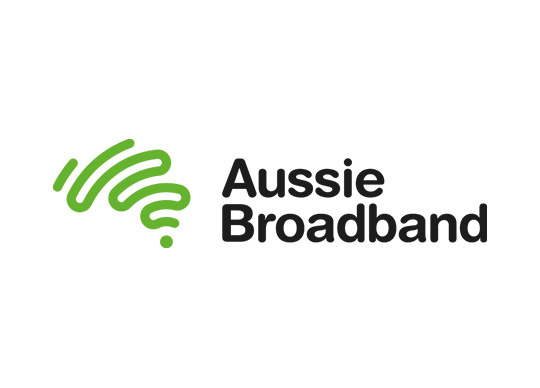 Aussie Broadband Limited has released its trading update for the quarter ended 31 December 2021 (2Q FY22).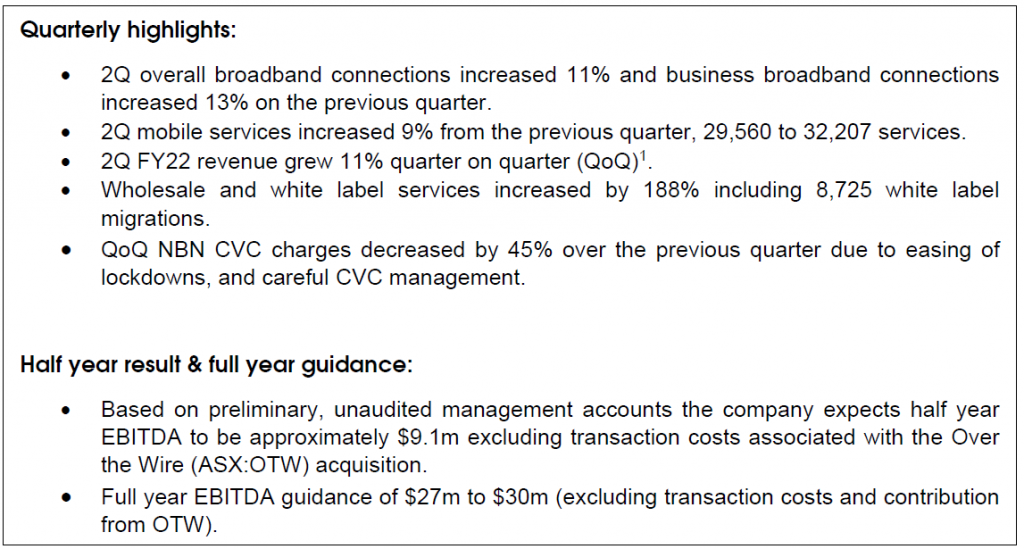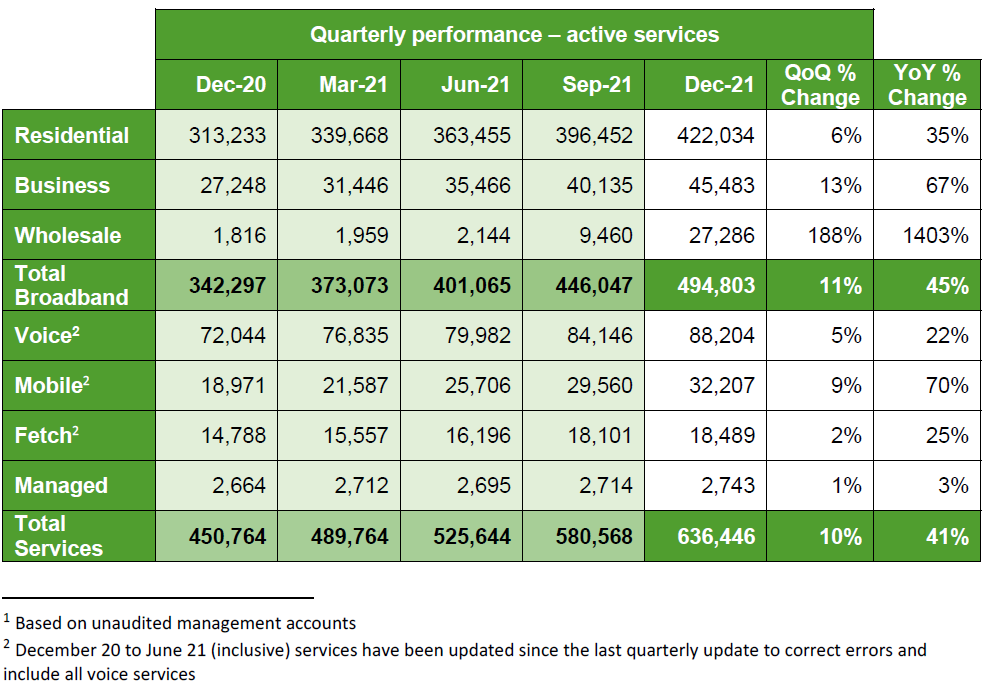 Aussie Broadband has shown an increase in broadband connections of 11% in 2Q FY22.
"We're very pleased with how all segments have performed across the quarter, despite the Christmas period impacting residential sales slightly" said Managing Director, Phillip Britt.
"The business segment remained strong. So far in 1H FY22 we have taken 15% of all NBN enterprise ethernet net service activation orders. We continue to be excited about our Carbon platform (our selfservice platform for business), it now has more than 10,000 active services and over 400 MSPs (managed service providers) onboarded."
"The second quarter remained strong for new white label connections, boosted by the migration of our major white label customer's existing services moving onto the ABB network. The organic growth of more than 9,000 new white label connections, and the migration of 8,725 existing services, increased the wholesale and white label segment which grew by 188% when compared to 1Q. The white label migration will complete in 3Q."
"Whilst first half EBITDA has been impacted by increased promotional costs, and CVC expense due to lockdowns, we expect to see the benefits of operating leverage in 2H FY22 with employee, marketing and administration expenses expected to be lower as a percentage of revenue. The second half will also benefit from the organic connection growth achieved in the first half, additional white label migrations, and operating leverage to produce a full year EBITDA in the range $27m to $30m. This validates our strategy of continuing to invest in connection growth at the expense of short-term EBITDA gains." Phil said.
SERVICES
Total broadband connections for 2Q increased by 48,756 or 11% which was assisted by 8,725 white label connection migrations in what is a seasonally lower quarter due to Christmas.
Aussie Broadband NBN market share (excluding satellite) is expected to be 5.66% at 31 December 2021, up from 5.17% at 30 September 2021. Total services increased in 2Q by 55,878 or 10%.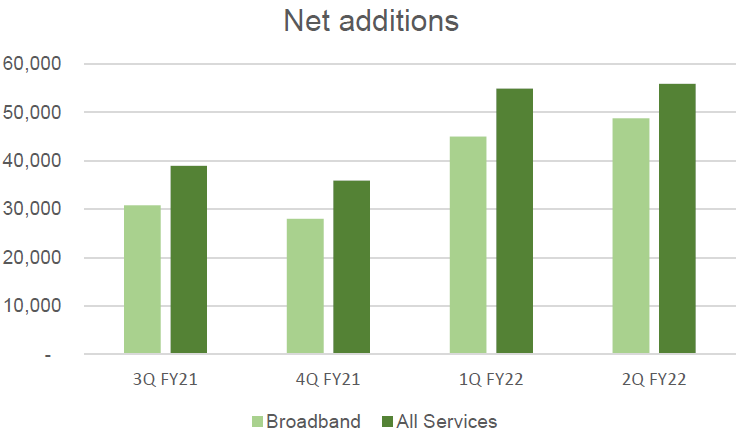 Residential broadband
Net residential broadband additions for 2Q were 25,582.
Promotions continued throughout the quarter and there was a modest increase in churn during December and January as customers started to migrate off the 'focus on fast' promotion.
BUSINESS BROADBAND
Business broadband net additions were 5,348 being a 13% increase over the previous quarter.
Demand for Aussie Broadband business services was strong with ABB taking 15% of NBN enterprise ethernet service orders in FY22 year to date.
Carbon has grown from zero to 10,240 services in the past 18 months. The platform has over 400 MSPs onboarded and will continue to assist in driving growth in this segment.
WHOLESALE & WHITE LABEL BROADBAND
Wholesale & white label net additions for 2Q were 17,826 made up of 8,725 migrated white label services in addition to net organic growth of 9,101 services during the quarter.
MOBILE SERVICES
Migrations from the Telstra mobile agreement to the new Optus agreement are now complete.
Mobile net additions for 2Q were 2,647 or 31% lower than in 1Q due to a combination of factors including limited availability of mobile handset options, some loss of services due to coverage following the migration to the Optus network, and delays in providing the ability for customers to sign up online for mobile services.
AUSSIE FIBRE PROJECT UPDATE
Construction continued throughout the quarter and 63 sites were complete at 31 December 2021, up from 41 at 30 September 2021.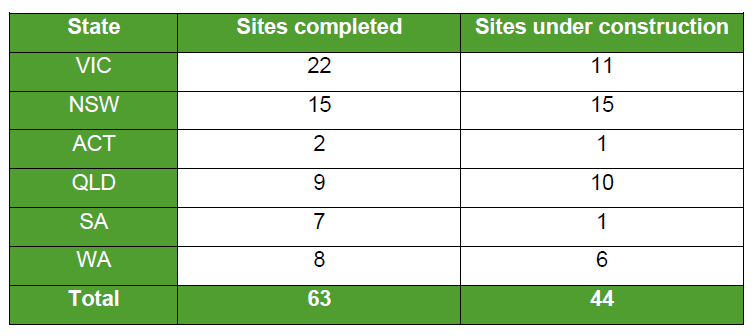 The company expects that a further 34 sites will be completed in 3Q, and the remaining 10 sites to be completed in 4Q FY22.
The migration off existing Telstra backhaul agreements onto the Aussie fibre network has commenced and the company will start to unlock operational savings from March 2022 onwards.
The project remains on time and on budget and will be complete in FY22.
NBN CVC Update
2Q saw an easing of the CVC challenges experienced in 1Q, with lockdowns removed in late October and early November, although some benefit continued from the 51,000 customers proactively migrated to NBN higher speed tiers at the start of the financial year.
Total CVC expense for the quarter was $1.8 million, a decrease of 45% on the previous quarter after accounting for NBN relief ($0.2m) and increased inclusion benefits from migrated customers ($1.0m).
NBN FUTURE PRICING MODEL
Aussie Broadband says it is engaged with both NBN and ACCC regarding the future of NBN's pricing model. While NBN's current proposal has some positive elements, particularly the move to access only pricing for some speed tiers, products such as the 50/20 tier (which accounts for the majority of customers) are still not priced sustainably for RSPs and consumers. In addition, the unknown timeline for the introduction of NBN's new pricing adds significant risk in the short to medium term for retail providers.
Indicative Financial Performance for 1H FY221
Set out below is a summary of the financial performance of ABB for 1H FY22 based on unaudited management accounts.

Revenue for the half has increased by $36.7m over the 2H FY21 (19%).
Marketing expense as a percentage of revenue increased to 12.6% in 1H FY22 compared to 11.9% in 1H FY21.
The chart below represents cost of acquisition (excluding white label and including promotion costs) over the last 12 months and our estimate for the next 6 months.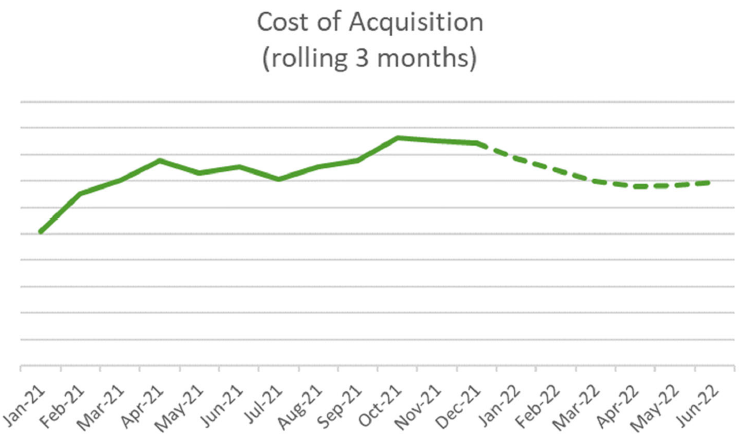 OVER THE WIRE ACQUISITION
On 2 December 2021, ABB announced that it had entered a Scheme Implementation Deed (SID) with Over the Wire Holdings Limited (ASX: OTW) under which it is proposed that ABB will acquire 100% of the share capital in OTW. The scheme booklet has been lodged with and approved by ASIC, authorised by the Federal Court and has been despatched to OTW shareholders. The Scheme meeting is scheduled to be held on 24 February 2022 and the Scheme is expected to be implemented following Federal Court approval in March 2022.
OUTLOOK
The company expects broadband net additions of 85,000 to 95,000 for 2H FY22, including the migration of white label services, with total active broadband connections at 30 June 2022 to be in the range of 580,000 to 590,000. Naturally this is dependent on ABB's marketing activities and the relative competitive environment through the period. An update to these figures will be provided in the 3Q update, expected to be released in late April 2022.
The company expects full year EBITDA (before transaction costs and excluding any contribution from OTW) to be in the range of $27m to $30m. Expected 2H FY22 performance will be driven by: Comparable marketing costs but with the benefit of a full half of revenue from 1H FY22 acquired customers;
Employee and administration costs being lower as a percentage of revenue in 2H FY22;
Continued growth in connections and other services;
No further lockdowns leading to increased CVC usage;
Completion of the white label connection migrations.
All financial information included in this results update is based on management accounts, is unaudited and remains subject to further review and finalisation.
The company will release its half year results on 21 February 2022 and details of a shareholder call will be announced closer to the date.