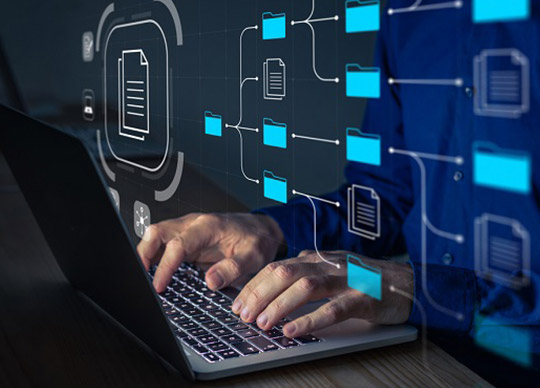 Over the next few years, regulators will crackdown on some of the world's biggest tech companies, including Amazon, Google, Meta, X (Twitter), Alibaba, and Tencent, according to GlobalData.
GlobalData's latest thematic report, 'Tech Regulation,' predicts that regulators will come after tech companies in 12 regulatory arenas: data security, data privacy, antitrust, tax avoidance, misinformation, online harm, artificial intelligence (AI) ethics, copyright, net neutrality, US-China tech sanctions, environmental, social, and corporate governance (ESG), and obstruction of justice.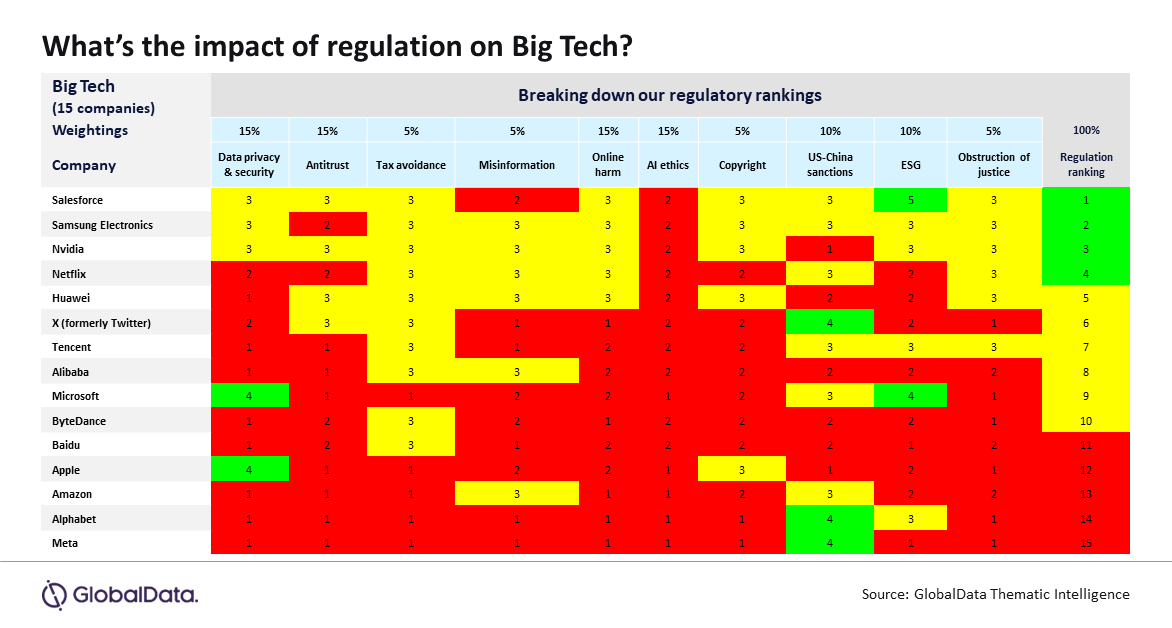 Note:1 (red) implies that this regulatory theme will have a negative impact on earnings over the next 12 months; 3 (amber) implies a neutral impact; and 5 (green) a positive impact.
Sweeping new regulations will come on multiple fronts, but data privacy, antitrust, AI ethics, and online harm will be the main targets of regulators' investigations in the near term. These areas are critical to ensure a safe and efficient digital economy.
Brussels is taking the lead in promoting new regulation—including on AI—with a string of new laws targeting Big Tech's business model. In Washington, despite President Biden's resolve to step up tech regulation, a divided Congress makes a change in the legal landscape unlikely.
For its part, the Chinese government must strike a delicate balance: maintaining regulatory oversight of the tech sector while innovating fast in the technologies most under pressure from the US.
Laura Petrone, Principal Analyst, Thematic Intelligence at GlobalData, comments: "Ad-funded internet companies treating data as a free resource—like Meta, Alphabet, Amazon, and Baidu—face the highest regulatory risk. While Microsoft and Apple are less at risk from data privacy issues, they are both highly exposed to antitrust regulation and meet the criteria (alongside Amazon, Meta, and Alphabet) to qualify as 'gatekeepers' under the EU's new antitrust legislation."
Salesforce, Samsung Electronics, Nvidia, and Netflix face the lowest regulatory risk, as they do not face significant scrutiny in the critical regulatory arenas of data privacy, antitrust, and online harm.
Petrone concludes: "All companies investing in AI will face significant scrutiny by regulators in AI ethics, but Big Tech again has the most at stake. The EU's AI Act has the potential to hold providers of foundation models, which create content from limited human input (e.g., ChatGPT), accountable for assessing and mitigating possible risks. Should the US and the UK align with Brussels' approach, companies like OpenAI,
Microsoft, Alphabet, and Meta will be deemed responsible for how their systems are used, even if they have no control over specific applications of the technology."