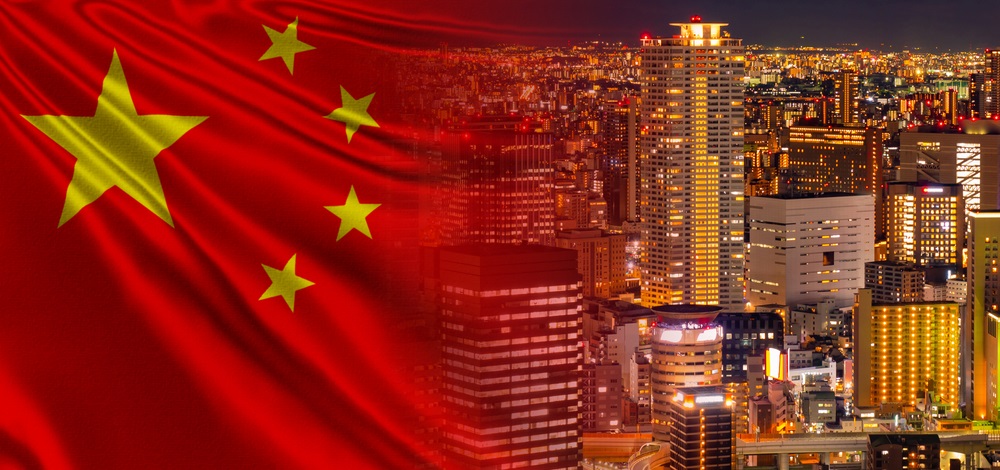 China has emerged as the home to the most number of companies (24) in GlobalData's list of top 50 Asia-Pacific (APAC) companies in terms of revenue during 2019-2020.
In terms of the annual revenue too, Chinese firms accounted for the lion's share of 55.3%, followed by Japan (30%), South Korea (6.5%), India (4%), Taiwan (3%) and Thailand (1.2%).
On the year-on-year (y-o-y) revenue growth front, some of the notable performances also came from the Chinese enterprises, which included Alibaba, Country Garden, JD.com, and Sinopharm, all growing above 15%. Among the top 50, Alibaba posted the largest growth of 35.3% on account of exceptional 34.4% growth in domestic retail and 62% rise in cloud computing business.
Parth Vala, Company Profiles Analyst at GlobalData, comments: "Greater focus on customer management, increase in average unit price per click and volumes of paid clicks and substantial growth in revenue contributions from hybrid and public cloud businesses helped Alibaba achieve such significant y-o-y revenue growth."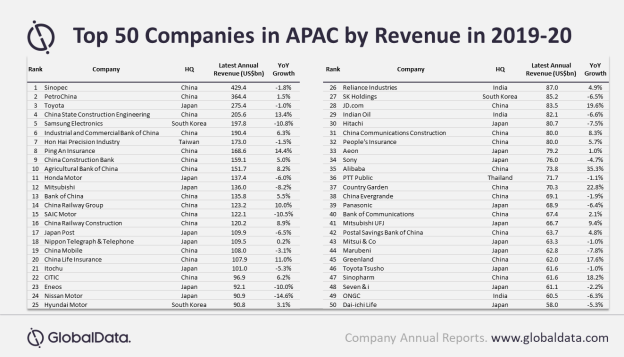 Country Garden benefited from 28.6% growth in property sales, 67.3% rise in hotel services business and 18.1% increase in construction services activities. Enhanced customer base, which increased to 362 million from 305.3 million in the previous year; increased logistic services to third-party merchants and others; and greater revenue from marketing services due to automated marketing technologies bolstered JD.com's revenue growth.
Sinopharm registered revenue growth of 18.2% as all its business divisions—pharmaceutical distribution, retail pharmacy, and medical device—performed exceptionally with growths of 20%, 33.8% and 40.1%, respectively.
On the other hand, Nissan Motor, Samsung Electronics and SAIC Motor suffered annual revenue declines of 14.6%, 10.8% and 10.5%, respectively. Nissan Motor was mainly affected by the slowdown in China and decrease in industry volumes across the globe due to the impact of the COVID-19. As a result, sales in Japan, China, North America and Europe declined by 10.3%, 1.1%, 14.6% and 19.4%, respectively.
Mr Vala continues: "Oversupply in semiconductor market took its toll on Samsung's NAND flash and DRAM products due to sharp fall in prices."
Prevailing recession in automotive sector, along with economic contraction in China, adversely affected SAIC Motor, which reported 11.5% decrease in its total sales volumes, including 12.7% decline in passenger cars sales and 3.4% contraction in commercial car sales.
On the sector front, financial services sector led the list with 13 companies, followed by oil and gas (9), technology (7), construction, (7), automotive (5), retailing (4), mining (1), pharma (1) and others (3).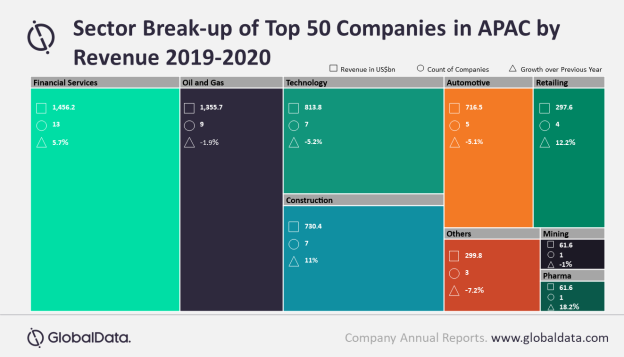 Retailing witnessed y-o-y revenue growth of 12.2% on account of improved performances of Alibaba and JD.com.  In construction, all players were from China, which drove its 11% annual growth, especially driven by China State Construction Engineering, China Railway Group, Country Garden, and Greenland.
In financial services sector, except Japan Post and Dai-ichi Life, all players reported y-o-y revenue growth, of which most notable were Ping An Insurance and China Life Insurance with growth rates of 14.4% and 11%, respectively.
Mr Vala concludes: "Given the global economic contraction due to lockdowns and prevailing uncertainty, it is certain that the top 50 are going to feel the heat in the near future, which would test their business resiliency."