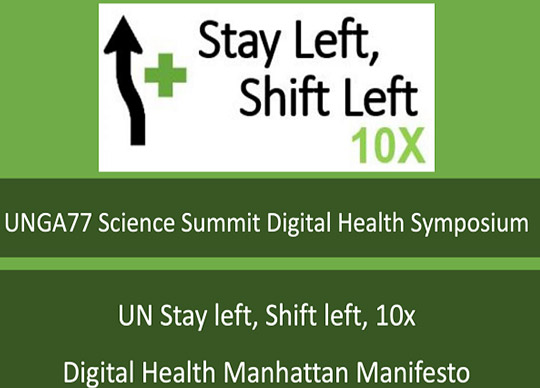 Digital healthcare leaders are calling on government, national public healthcare bodies, and the IT industry to come together to avert a looming global health crisis.
The call comes in the Manhattan Manifesto from the United Nations Science Summit Digital Health Leadership Steering Group, which sets out 12 principles for improving global healthcare in the face of rising costs, declining outcomes, and worsening inequalities.
Professor Martin Curley, chair of the steering group and the document's lead author, said: "There is overwhelming evidence that we're heading for a cliff edge unless we make a radical shift. Half the world's population still has no access to essential health services and the other half may soon be unable to afford the services they have."
The evidence of global access to health services comes from the WHO and World Bank. The OECD has warned that healthcare costs will become unsustainable in advanced economies by the middle of this century. Other studies have warned of a global shortfall of 18 million health workers by 2030.
The Manhattan Manifesto, the outcome of the last meeting of the UN digital health symposium in New York, makes the case for accelerated adoption of digital technology for monitoring, managing and improving health accompanied by a "shift left" from hospital to community and home-based care.
The manifesto calls for governments to commit 6% of healthcare spending to digital healthcare, a figure based on levels of investment in the private sector to achieve digital transformation. It also calls for personal digital healthcare records backed by international standards for data governance and privacy.
The document has 50 signatories including Professor Jeffrey Braithwaite, founding director of the Australian Institute for Health Innovation, Ann Mond Johnson, chief executive of the American Telemedicine Association and Romita Ghosh, the Indian healthcare entrepreneur.
Professor Curley, former digital transformation director of Ireland's national health service, the Health Service Executive said: "In the USA, the cost of hospital services grew approximately 225% over the last two decades while average hourly earnings grew about 75%, making healthcare increasingly unaffordable. Healthcare productivity declined across the same period. Other advanced countries are experiencing similar pressures, regardless of how their services are funded."
The manifesto describes three 'Copernican shifts': from treating illness to promoting wellness, including the earlier identification of rare diseases and chronic conditions; from treating people in hospital to treating them in the community, ideally their own homes; and from 'doctor knows best' to 'patients know best'. It argues that these changes will only be possible with digital transformation resulting from collaboration between governments, public healthcare systems, clinicians, patients/citizens and industry.
Curley said: "We call this 'stay left, shift left, 10x'. Stay left, shift left is a focus on prevention and treating people in their own homes. 10x refers to the growing body of evidence from living labs in Ireland and beyond to show that when you apply digital technology and improved data management to health you get a ten times improvement in outcomes – it's ten times faster, ten times cheaper and ten times better. Crucially, it also supports ten times higher volumes, addressing the capacity issue. Insights Care recently dubbed this 'Curley's Law'.
"To paraphrase Einstein, we keep doing the same things in healthcare and expecting a different result. Unless we make a fundamental change millions of people will have a lower quality of life or shorter lives than they deserve. The technology is available. It would be a tragedy if we fail to embrace it."
Romita Ghosh said: "A culmination of our UNGA 77 meeting was our flag-bearers' decision not to let the movement rest until it became mainstream. The Manhattan Manifesto launched today aims to champion a new era of digital health through collaboration, co-operation and change."
Ryl Jensen, CEO of New Zealand's Digital Health Association said: "The United Nations Manhattan Manifesto developed at UNGA 77 to steer the global direction of digital health comes at a pivotal time. The development and uptake of interoperable technology systems and remote patient monitoring across health systems will make a palpable difference to health outcomes across the world".
Dave DeAngelis, global head of healthcare at Dell said: "My challenge to you is don't be a bystander, join with this leadership group, lean in with us and help everyone to stay left, shift left."
Dr Charles Larkin, director of the Policy Research Institute at the University of Bath said: "We are pleasantly surprised at the increasing empirical evidence for 'Curley's Law' and are building a promising theoretical model based on existing growth models such as the Solow Growth Model and the Endogenous Growth Model, which can help explain this phenomenon."
The third United Nations digital health symposium will take place on September 21 and 22 in New York. The steering group is inviting representatives from industry and public services to get involved in meetings in the run up to the event. For further information, contact info@ivi.ie