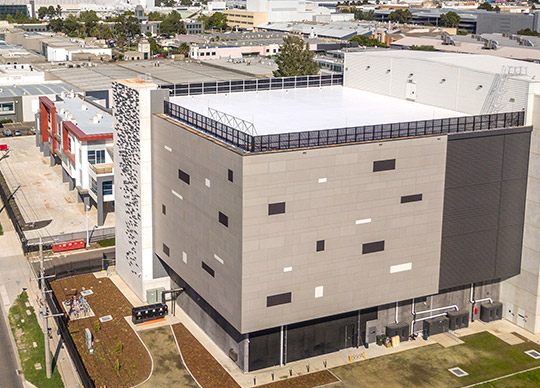 Equinix has announced it has completed the phase 2 expansion of its ME2 International Business ExchangeTM (IBX®) data centre, located in Port Melbourne.
The US$16 million (A$23 million approximately) investment adds 500 cabinets, bringing current capacity to 1,500 cabinets, and colocation space of more than 4,070 square metres. Once fully built out, ME2 will include more than 8,190 square metres of colocation space and a total of 3,000 cabinets.
Commenting on this latest expansion, Guy Danskine, Managing Director, Equinix Australia, said:
"The expansion of ME2 in Melbourne reflects our ongoing commitment and strategy to ensure our customers have access to a rich and diverse ecosystem of network and cloud connectivity services necessary to support their ongoing digital transformation needs.
"Melbourne is an important hub for digital innovation, attracting significant investments in its core infrastructure to support and enable its own ongoing transformation. Our expanded ME2 facility ensures we can provide secure, high-speed and low-latency digital infrastructure and services, driven by as-a-service consumption models and hybrid multicloud strategies."
Equinix's Melbourne IBX data centres are business hubs for more than 280 customers where they choose from a broad range of network services from more than 55 network service providers and interconnect directly to customers and partners in their digital supply chain. Comprising two campuses, the facilities serve the increasing interconnection needs of companies who want access to Melbourne.
The strategic importance of Melbourne is illustrated by the fact that many of the major cloud service providers, such as Microsoft, Oracle and Google, have dedicated cloud regions in the city, with AWS expected to follow suit later this year.
"Accessing public clouds locally provides a range of benefits, such as network efficiency and cost reduction, increased data security, and enhanced collaboration," continues Danskine.
"This ensures customers benefit from the advantages of deploying cloud-based services at the network's edge, where digital leaders in sectors like financial services, education, healthcare, research and development, and government can rethink business processes and accelerate innovation."
According to the Equinix 2022 Global Tech Trends Survey, 72 per cent of Australian respondents said their organisation plans to expand into new markets over the next 12 months, with 49 per cent saying Melbourne is the most common market to have a presence in, or to expand in.
"Equinix is dedicated to helping our customers and partners across Australia continue to navigate their digital transformation journeys through our interconnected digital ecosystem," adds Danskine. "To facilitate their ambitious growth plans, we continue to add increased capacity where it is required so businesses can capitalise on the benefits and efficiencies of digital models, such as multicloud strategies, as a primary source of competitive advantage."