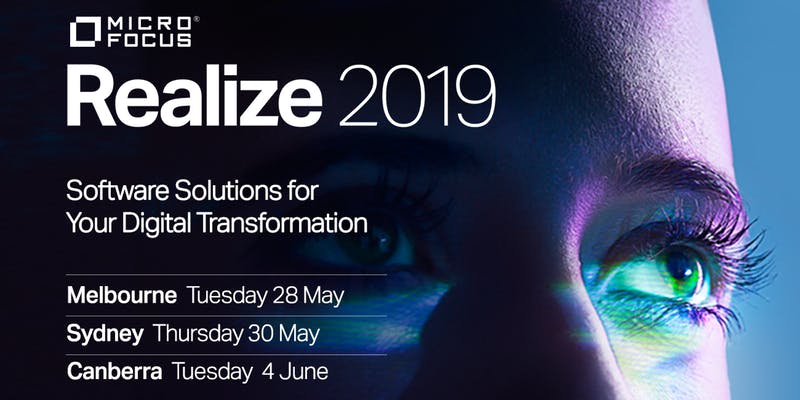 MySecurity Media attended a media briefing this week as part of Micro Focus' annual South Pacific region customer roadshow, Realize 2019.
Peter Fuller, managing director, Micro Focus ANZ and Joe Garber, global head of strategy solutions outlined the scale of the business, with $4 billion in revenue making Micro Focus a global top 10 pure play software company.
Micro Focus is wrapping its strategy around four critical pillars of digital transformation: Enterprise DevOps, hybrid IT management, security, risk & governance and predictive analytics.  One of the key staples within its security, risk and governance products, Content Manager, has deep roots in Australia, developed in Canberra in the 1980s and more commonly known as TRIMS (The Records & Information Management System).
Of particular interest was insights provided by Ingrid McAlpin, director of information and technology, NSW Office of Sport, speaking as a Micro Focus customer and Stewart Hollingdrake, Director of Sales at the Citadel Group Limited, speaking as a Micro Focus partner.
ASX-listed Citadel Group's enterprise information management solution, Citadel-IX, has become Australia's first Content Manager cloud hosted solution, certified to run in Microsoft's new Azure AU Central at Protected level for government clients. The Citadel Group has achieved certification for Information Security Management ISO 27001 and is a Tier 1 Micro Focus Platinum Business Partner.
For Ingrid McAlpin, NSW Office of Sport, a formal tender process selected Citadel and what started as a cloud transition and data efficiency project ultimately became an organisational change management project.
"For any government agency, even a small organisation like the Office of Sport, records management is highly regulated with both legislation and policy obligations", McAlpin highlighted. Transitioning from the existing TRIMS to Content Manager and new enterprise architecture, the Department joined with other organisations, including the Institute of Sport and Venues NSW, all with the shared incentive to make people more active.
Within a content management perspective, the department handles forms, documents, images and a range of unstructured data.  Moving to a single platform and a single team to manage records, the new system went live on 10 December 2018. Six months later the project has proved a success, with information available anytime, on any device and from anywhere. Importantly, alongside being more cost effective and efficient, the Content Manager maintains compliance to legislation and policy requirements. No more printing and all with electronic approvals, saving time for people related tasks and knowing where information is, when required.
With a security mindset, despite a cloud strategy potentially posing a security challenge, data security has effectively been improved, being retained in a Tier 3 Data Centre with ISO27001 certification – a degree of security the department could never achieve alone.
The NSW Office of Sport continues to embed the solution into the business and the next phase will begin to apply analytics, machine learning and allow the mining of the data, including work with the NSW Data Analytics Centre. In the short term, Ingrid McAlpin reports the project is allowing the Office of Sport to make better decisions towards achieving the primary role of making people more active, by determining where community activation is needed, what resources are needed and where sport facilities need to be.
By Chris Cubbage, Executive Editor