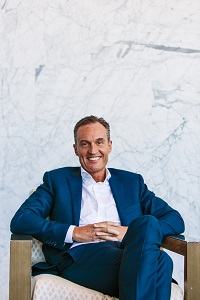 Fujitsu has announced the appointment of Conway Kosi as Vice President of Sales, Customer Service Management and Marketing for the Oceania region. In this new role, Conway is responsible for driving the company's sales and marketing strategy, focusing on customer requirements and on achieving the best results for customers. Conway will also lead a unified client service management organisation that is responsible for customer engagement across Fujitsu's business in Australia and New Zealand.
Conway brings a wealth of experience to Fujitsu in Australia and New Zealand drawing from his over 30 years of experience in the IT industry in Australia, Europe, USA and Japan. Conway initially joined Fujitsu Australia in 2006, and held various leadership roles before moving to Japan in 2011 as Head of International Marketing. Between 2013 and 2016 Conway was head of Fujitsu's Nordic business covering Denmark, Estonia, Finland, Norway, and Sweden. Most recently, he was responsible for Fujitsu's Digital Technology Services (DTS) business, which is the end-to-end services business for Fujitsu in Europe. Conway also served as chair of the EMEA Diversity and Inclusion (D&I) Council.
Mike Foster, Chief Executive Officer Fujitsu Australia and New Zealand, said: "It is important that we continue to deliver value to our customers through innovation and we are pleased to have Conway rejoin the Oceania team in this important role. He is an experienced business leader with a proven record of accomplishment in driving digital innovation across multiple industries. Conway has served many key roles in Fujitsu, he has a deep knowledge of our global business that will help to leverage the Fujitsu's global capability in this region."
Conway has a Masters in Business Administration from the Australian Graduate School of Management, University of New South Wales. He also holds a Graduate Diploma in Business Marketing from Monash University in Melbourne, Australia, and a Bachelor of Science degree from the University of Tasmania in Hobart, Australia.
Online resources
About Fujitsu
Fujitsu is the leading Japanese information and communication technology (ICT) company, offering a full range of technology products, solutions, and services. Approximately 140,000 Fujitsu people support customers in more than 100 countries. We use our experience and the power of ICT to shape the future of society with our customers. Fujitsu Limited (TSE: 6702) reported consolidated revenues of 4.1 trillion yen (US $39 billion) for the fiscal year ended March 31, 2018. For more information, please see http://www.fujitsu.com.
About Fujitsu Australia and New Zealand
Fujitsu Australia and New Zealand is a leading service provider of business, information technology and communications solutions. We partner with our customers to consult, design, build, operate and support business solutions. From strategic consulting to application and infrastructure solutions and services, Fujitsu Australia and New Zealand have earned a reputation as the single supplier of choice for leading corporate and government organisations. Fujitsu Australia Limited and Fujitsu New Zealand Limited are wholly owned subsidiaries of Fujitsu Limited (TSE: 6702). See www.fujitsu.com/au/.