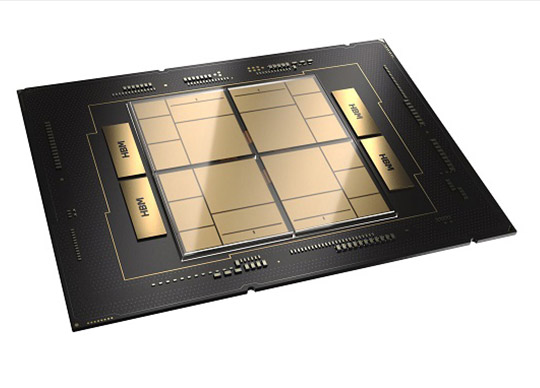 Intel has unveiled the 4th Gen Intel Xeon Scalable processors (code-named Sapphire Rapids), the Intel Xeon CPU Max Series (code-named Sapphire Rapids HBM) and the Intel Data Center GPU Max Series (code-named Ponte Vecchio.
"The launch of 4th Gen Xeon Scalable processors and the Max Series product family is a pivotal moment in fueling Intel's turnaround, reigniting our path to leadership in the data center and growing our footprint in new arenas," said Sandra Rivera, Intel executive vice president and general manager of the Data Center and AI Group. "Intel's 4th Gen Xeon and the Max Series product family deliver what customers truly want – leadership performance and reliability within a secure environment for their real-world requirements – driving faster time to value and powering their pace of innovation."
Today, there are over 100 million Xeons installed in the market – from on-prem servers running IT services, including new as-a-service business models, to networking equipment managing Internet traffic, to wireless base station computing at the edge, to cloud services.
Building on decades of data center, network and intelligent edge innovation and leadership, new 4th Gen Xeon processors deliver leading performance with the most built-in accelerators of any CPU in the world to tackle customers' most important computing challenges across AI, analytics, networking, security, storage and HPC.
When comparing with prior generations, 4th Gen Intel Xeon customers can expect a 2.9x1 average performance per watt efficiency improvement for targeted workloads when utilizing built-in accelerators, up to 70-watt2 power savings per CPU in optimized power mode with minimal performance loss, and a 52% to 66% lower TCO3.
Sustainability
The expansiveness of built-in accelerators included in 4th Gen Xeon means Intel delivers platform-level power savings, lessening the need for additional discrete acceleration and helping our customers achieve their sustainability goals.
Additionally, the new Optimized Power Mode can deliver up to 20% socket power savings with a less than 5% performance impact for selected workloads. New innovations in air and liquid cooling reduce total data center energy consumption further; and for the manufacturing of 4th Gen Xeon, it's been built with 90% or more renewable electricity at Intel sites with state-of-the-art water reclamation facilities.
Artificial Intelligence
In AI, and compared to previous generation, 4th Gen Xeon processors achieve up to 10x5,6 higher PyTorch real-time inference and training performance with built-in Intel Advanced Matrix Extension (Intel AMX) accelerators.
Intel's 4th Gen Xeon unlocks new levels of performance for inference and training across a wide breadth of AI workloads. The Xeon CPU Max Series expands on these capabilities for natural language processing, with customers seeing up to a 20x12 speed-up on large language models.
With the delivery of Intel's AI software suite, developers can use their AI tool of choice, while increasing productivity and speeding time to AI development.
The suite is portable from the workstation, enabling it to scale out in the cloud and all the way out to the edge. And it has been validated with over 400 machine learning and deep learning AI models across the most common AI uses cases in every business segment.
Networking
4th Gen Xeon offers a family of processors specifically optimized for high-performance, low-latency network and edge workloads. These processors are a critical part of the foundation driving a more software-defined future for industries ranging from telecommunications and retail to manufacturing and smart cities.
For 5G core workloads, built-in accelerators help increase throughput and decrease latency, while advances in power management enhance both the responsiveness and the efficiency of the platform. And, when compared to previous generations, 4th Gen Xeon delivers up to twice the virtualized radio access network (vRAN) capacity without increasing power consumption.
This enables communications service providers to double the performance-per-watt to meet their critical performance, scaling and energy efficiency needs.
High Performance Computing
4th Gen Xeon and the Intel Max Series product family bring a scalable, balanced architecture that integrates CPU and GPU with oneAPI's open software ecosystem for demanding computing workloads in HPC and AI, solving the world's most challenging problems.
The Xeon CPU Max Series has a x86-based processor with high bandwidth memory, accelerating many HPC workloads without the need for code changes. The Intel Data Center GPU Max Series is Intel's highest-density processor and will be available in several form factors that address different customer needs.
The Xeon CPU Max Series offers 64 gigabytes of high bandwidth memory (HBM2e) on the package, significantly increasing data throughput for HPC and AI workloads. Compared with top-end 3rd Gen Intel® Xeon® Scalable processors, the Xeon CPU Max Series provides up to 3.7 times10 more performance on a range of real-world applications like energy and earth systems modeling.
Further, the Data Center GPU Max Series packs over 100 billion transistors into a 47-tile package, bringing new levels of throughput to challenging workloads like physics, financial services and life sciences. When paired with the Xeon CPU Max Series, the combined platform achieves up to 12.8 times13 greater performance than the prior generation when running the LAMMPS molecular dynamics simulator.