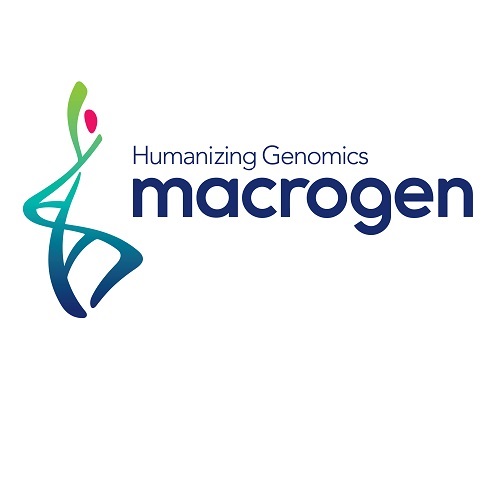 Macrogen and Edico Genome have announced Macrogen has chosen multiple DRAGEN Bio-IT Processors to reinforce its big data processing and analysis capacity for large-scale genome analysis and clinical sequencing services. Macrogen has world-class next-generation sequencing (NGS) facilities, which are equipped with Illumina's HiSeq X Ten, HiSeq 2000, HiSeq 2500, HiSeq 4000 and MiSeq sequencing systems; Thermo Fisher's Ion PGM and Ion Proton systems; Roche's GS-FLX system; and PacBio instruments. Macrogen's IT infrastructure capacity exceeds 11 petabytes of storage and more than 3,000 core clusters. Using DRAGEN, Macrogen was able to analyze each genome (30x coverage) produced by their HiSeq X Ten sequencing system in only 26 minutes, while maintaining high sensitivity and specificity. This analysis included conversion from BCL, the file that is delivered by the sequencing instrument, to variant call format (VCF).
Macrogen provides various genome analysis services, including HiSeq X Ten platform-based, large-scale whole-human genome sequencing service, also known as X-Genome (Xpressway to Genome). Macrogen Corp ( USA ), a subsidiary of Macrogen, now provides clinical sequencing-based healthcare services for physicians and patients through its CLIA-certified Clinical Laboratory. Furthermore, Macrogen is planning to launch a healthcare information and contents business using the genomic big data obtained from the Asian Genome Project and its global genome networks.
"While we have the capacity to generate over 500 gigabytes of NGS data per day with our range of NGS platforms, speeding up analysis of this big data allows us to operate our NGS facilities at maximum capacity and further increase our customer's satisfaction," said Dr. Jeong-Sun Seo , chairman and founder of Macrogen. "After evaluating several data analysis options, we found DRAGEN's ability to provide enormous time savings, while simultaneously reducing infrastructure costs and maintaining high accuracy, to be the best solution to offer our customers in their efforts to advance personalized medicine and genomic research."
DRAGEN is the world's first processor designed to analyze NGS data. The processor is integrated on a PCIe card and available in a pre-configured server, enabling seamless integration into bioinformatics workflows.
"As one of the largest sequencing centers in the world and the first commercial organization to offer the $1,000 genome, Macrogen is a true leader in genomics and continues to provide the most cutting-edge technologies to their customers," said Pieter van Rooyen , Ph.D., CEO of Edico Genome. "DRAGEN is designed to process big data generated by high-throughput sequencing instruments quickly, cost effectively and accurately, and we look forward to working with Macrogen to implement DRAGEN across multiple sites and offer the benefits of our Bio-IT Processor to their 17,000 customers around the world."
DRAGEN recently enabled the record-breaking 26 hour-diagnosis of critically ill newborns using whole genome sequencing while achieving a sensitivity and specificity of 99.5 percent, with results published in Genome Medicine . Since then, DRAGEN's Genome Pipeline has been further accelerated to analyze a whole genome, from BCL to variant call format, in only 26 minutes.
DRAGEN is highly reconfigurable, using a field-programmable gate array (FPGA) to provide hardware-accelerated implementations of genome pipeline algorithms, such as BCL conversion, compression, mapping, alignment, sorting, duplicate marking and haplotype variant calling. The flexible DRAGEN platform allows Edico to develop custom algorithms as well as refine and improve existing pipelines. Updated versions are made available for customers through simple remote downloads.
About Macrogen
Macrogen, Inc. ( http://www.macrogen.com ), based in Seoul, Korea , is a world leading service provider in high-quality gene analysis and has enjoyed stable and steady growth since 1997. The company's diverse offerings include DNA sequencing, next-generation sequencing, microarray analysis, oligonucleotide synthesis, and genetically engineered mice services. In addition, Macrogen has been expanding its business scope into other areas such as molecular diagnostics and consumer genomics. With a global presence, Macrogen operates through U.S. subsidiaries in Rockville , New York , and Cambridge; in the Netherlands in Europe ; and in Tokyo, Japan . Macrogen is listed on the Korea Securities Dealers Automated Quotation.
About Edico Genome
Edico Genome has created the world's first bioinformatics processor designed to analyze next-generation sequencing data, DRAGEN . The use of next-generation sequencing is growing at an unprecedented pace, creating a need for a technology that can process this big data rapidly and accurately. Edico Genome's computing platform has been shown to speed whole genome data analysis from hours to minutes, while maintaining high accuracy and reducing costs, enabling clinicians and researchers to reveal answers more quickly. For more information, visit www.EdicoGenome.com or follow @EdicoGenome.