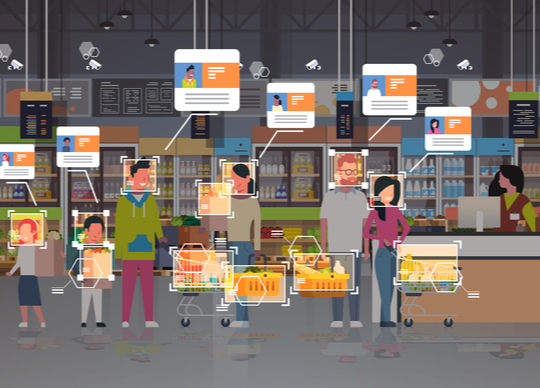 By Staff Writer
Three large retail chains are using facial recognition technology to capture and store images of shoppers' faces to prevent theft. A recent survey by consumer advocacy group Choice canvassed 25 major Australian retailers and found Bunnings, Good Guys, and Kmart use the technology.
Choice has criticised the retailers for the practice and says the signage outside stores warning facial recognition technology was in use was hard to see and altogether inadequate. While Australia's Privacy Act provides for facial recognition technology, its use must be proportionate to the harm the technology is trying to prevent.
In this case, Choice argues deterring shoplifters doesn't warrant capturing the images of every shopper entering the relevant retailer's stores.
In addition to signage outside stores, all three retailers refer to using store cameras (including in car parks, pick-up areas and store entrances) and facial recognition technology in their online privacy policies.
Australia's National Retail Association (NRA) says retail crime (including robbery and vandalism in addition to shoplifting) costs retailers around $9 billion annually. The retail lobby group reports a rise in practices like de-tagging, using magnets to remove security pins on products, and lining bags with materials like aluminium foil to block the magnetic signals that security tags send to sensors at store entrances.
The NRA says retail crimes like theft reduces profitability for businesses, increases the cost of goods to consumers, endangers frontline staff and wastes time.
In a media statement, Wesfarmers-owned Bunnings was unapologetic about the use of facial recognition technology, with a spokesperson saying they let customers know if the technology is in use through signage at store entrances and is also in its privacy policy, which is available on the retailer's website.
"In recent years, we've seen an increase in the number of challenging interactions our team have had to handle in our stores, and this technology is an important tool in helping us to prevent repeat abuse of team and customers, "the Bunnings spokesperson said.
Kmart has around 200 stores across Australia and states it is committed to protecting the privacy of customers' personal information. The retailer also says it is transparent in explaining how it collects and uses customer data.
Kmart's online privacy policy lists 14 different types of customer data it collects, including images from video surveillance, body cameras and other cameras used in and around stores, as well as explicitly referring to collecting "images from ." Kmart adds that its uses images collected from facial recognition technology for loss prevention or store safety purposes.
Electrical appliance and furnishing retailer, The Good Guys, have approximately 100 stores around Australia and a similar privacy policy to Kmart. Their privacy policy says the use of facial recognition technology in-store is "for the purposes of security and theft prevention and managing/improving customer experience at our stores."
While Choice argues that these three retailers' widespread use of facial recognition technology to prevent theft is inappropriate, outside the privacy laws, the practice remains largely unregulated in Australia. However, in recent years, various government agencies have harnessed those privacy laws to curtail the more egregious abuses of facial recognition technology.
Choice has notified Australia's Office of the Australian Information Commissioner regarding its findings.
This article has been co-published on Australian Security Magazine.