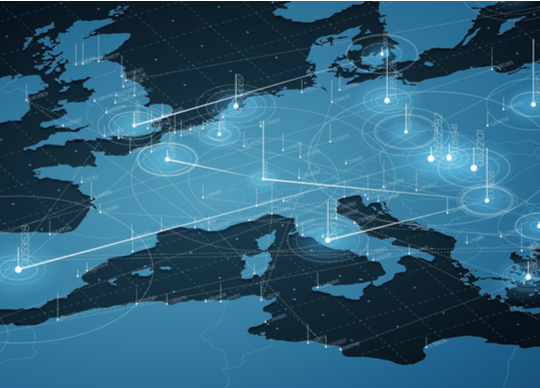 By Scott Twaddle, Vice President, Oracle Cloud Infrastructure Product and Industries.
Oracle has announces Oracle Cloud Infrastructure (OCI) will launch new sovereign cloud regions for our customers across the European Union.
Cloud is not one size fits all. As companies and governments move more mission critical workloads to cloud, there is increasing demand for protection of sensitive data in public clouds that span national borders and jurisdictions. Countries and jurisdictions are placing more requirements on data within their borders, and organizations are asking their global cloud providers for more transparency and control over how and where their data is stored, handled, and secured.
Our customers tell us they want the benefits of cloud but have requirements for where data is located, the regulations they must meet, and the personnel operating the underlying infrastructure. OCI is an established leader in building cloud regions for customers who require the highest levels of security and have regulated workloads. We operate government regions in the UK and North America and have deployed our industry's first OCI Dedicated Region, serving customers that include highly-regulated companies and governments around the globe. To better serve our European customers, Oracle has built on this experience and plans to launch new sovereign cloud regions for the European Union in 2023.
Both private companies and public sector organizations across the EU will be able to use these new OCI sovereign cloud regions to host data and applications that are sensitive, regulated, or of strategic regional importance. As a general policy, OCI already does not move customer content from the regions our customers select for their workloads. OCI's sovereign cloud extends this practice by restricting operations and customer support responsibilities to EU residents. These sovereign cloud regions are also designed to further enable customers to demonstrate alignment with relevant EU regulations and guidance.
Oracle plans to migrate customers using Oracle Fusion Cloud Applications within the existing EU Restricted Access cloud service to the new OCI sovereign cloud regions. These customers will gain the additional operational enhancements of the new sovereign cloud regions and will have full native access to OCI cloud services.
Designed to address compliance with the laws of the EU
These new sovereign cloud regions will operate under a comprehensive set of policies and governance that further enhance OCI's existing capabilities for data residency, security, privacy, and compliance. These additional policies will establish a framework for data and operational sovereignty, including how customer data is stored and accessed, and how government requests for data are handled.
The first two sovereign cloud regions for the EU will be located in Germany and Spain, with operations and support restricted to EU residents and specific EU legal entities. The sovereign cloud regions will be logically and physically separate from the existing public OCI Regions in the EU. Currently OCI operates six public OCI Regions located in the EU: Amsterdam, Frankfurt, Paris, Marseille, Milan, and Stockholm.
Same cloud services, pricing, and programs as the public cloud
The new sovereign cloud regions for the EU plan to offer all the 100+ OCI services available in Oracle's existing public cloud regions, as well as the European Union Restricted Access (EURA) application services. Pricing for OCI services will be the same as in existing OCI Regions, and EURA pricing will remain unchanged, with the same levels of support and financially backed SLAs. Customers will be able to use Oracle Universal Credits to purchase service and participate in OCI programs such as Support Rewards.
The new sovereign cloud regions will become part of OCI's distributed cloud. OCI can address customer requirements by delivering required cloud services to needed locations with flexible performance, security, compliance, and operational models. OCI currently operates 39 OCI Regions for commercial and government customers, plus multiple dedicated regions and national security regions.
Customers and partners support Oracle's sovereign cloud regions
"Accenture's new Sovereign Cloud Practice in Europe is helping to accelerate the adoption of cloud services by organizations that are interested in leveraging sovereign cloud solutions. Our ecosystem partnership with Oracle and its sovereign cloud offering is an exciting step forward. With Oracle's sovereign cloud regions for the EU, we bring our clients the ability to host sensitive data and applications in a public cloud that is both within the EU and designed to facilitate customer compliance with EU data privacy and sovereignty regulations. This offering allows us to leverage any and every Oracle Cloud Infrastructure public cloud service for our future projects." – Andrea Cesarini, Accenture Oracle Business Group Lead.
"The announcement of the opening of the EU Oracle Cloud regions in Germany and Spain is great news for our customers who will be able to benefit from the breadth of Oracle Cloud services within a European operating model. As a complement to this new Oracle offering, Atos will be able to bring customers its transformation capabilities through its local Atos Oracle Cloud Services center of expertise as well as its complementary cybersecurity services (security operations centers, identity and access management, encryption) to provide a higher level of control." Yannick Tricaud, Head of Southern Europe, Atos.
"With Oracle Cloud Infrastructure's offerings now in the EU, our options for storing data in a compliant manner could be expanded. As a public sector enterprise within the European Union, the capabilities and features of Oracle's sovereign cloud regions for the EU could, under the right conditions, be a useful alternative for our organization."- Richard Wiersema, Director of Operations, DICTU.
"Having cloud services with data centers that are located in the EU, and operated, updated and supported by EU residents, while maintaining isolation from non-EU cloud regions is an important part of our Cloud adoption. This will open up possibilities to adopt Infrastructure, Platform and Software as a service in Finland for the government." – Jarkko Levasma, Government CIO, Director General Ministry of Finance of Finland.