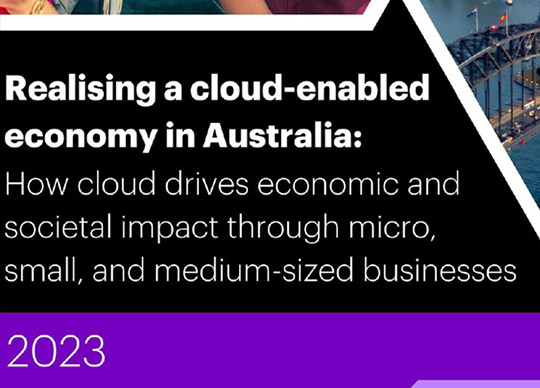 Amazon Web Services (AWS) has released a new report revealing that micro, small, and medium-sized enterprises (MSMEs) that embrace cloud-enabled technologies in Australia are expected to unlock up to AU$9.3 billion in annual productivity gains and support 1.4 million jobs across the healthcare, education, and agriculture sectors by 2030, representing 10% of all jobs in Australia.
AWS commissioned the Realising a Cloud-enabled Economy: How Cloud Drives Economic and Societal Impact Through Micro, Small, And Medium-Sized Businesses report to examine the potential benefits of moving to the cloud for MSMEs (defined as businesses with fewer than 250 employees) addressing societal issues. Conducted by global professional services firm, Accenture, the report uses the Organisation for Economic Cooperation and Development (OECD)'s definition of cloud adoption levels 1 in 2030, where 90% of all businesses adopt at least a basic level of cloud technology.
The report reveals that Australia's current rate of basic cloud adoption such as the use of web-based email services or cloud-based storage solutions is at 48%, intermediate adoption such as the use of customer relationship management or enterprise resource planning tools is at 41%, and advanced adoption such as the use of artificial intelligence (AI), including generative AI, and machine learning (ML) tailored for sophisticated tasks including fraud detection or supply chain forecasting is at 15%.
The Realising a Cloud-enabled Economy: How Cloud Drives Economic and Societal Impact Through Micro, Small, And Medium-Sized Businesses report covers 12 countries, including Australia, and uses market sizing, responses from quantitative surveys, and a combination of publicly available datasets from the OECD, the World Bank, and the Conference Board Total Economy Database.
Economic and Societal Impact of Cloud-Enabled MSMEs 
The report reveals that by moving to the cloud, MSMEs can drive tangible benefits to the economy and society, facilitating remote medical consultations, improving access to education, enhancing precision agriculture, and more, all of which contribute to nations meeting the targets included in the United Nations' Sustainable Development Goals (UN SDGs).
In the healthcare sector, cloud-enabled MSMEs help with addressing the challenge of limited access to healthcare faced by underserved communities. The report estimates cloud-enabled MSMEs can help unlock AU$4.7 billion in annual productivity benefits in healthcare and support 17 million telehealth consultations in Australia by 2030, a 145% increase on the current usage rate.
In the education sector, cloud-enabled MSMEs help with addressing the challenge of accessibility and inclusivity of education through digital platforms. The report estimates these MSMEs can help unlock AU$2.9 billion in annual productivity benefits in education and provide seven million students and adults in Australia with e-learning solutions by 2030.
In the agriculture sector, cloud-enabled MSMEs help with addressing food shortage problems, by implementing data-driven practices through cloud technologies such as AI. The report estimates MSMEs in Australia can help unlock AU$1.7 billion in annual productivity benefits in agriculture, and one in three farms will use precision agriculture solutions that enhance productivity by 2030, representing a 190% increase compared to the current usage rate.
"The report highlights that Australia has one of the highest overall cloud adoption rates globally, paving the way for the country to transition to a cloud-enabled economy. Micro, small, and medium-sized enterprises, though often the unsung heroes of innovation, play a crucial role in addressing challenges in Australian society, such as by improving access to digital healthcare and education services," said Michelle Hardie, Head of Strategy and Operations, ANZ, AWS. "To accelerate adoption of advanced cloud technologies such as generative AI and realise economic and social benefits sooner, AWS is working alongside governments, educators, and the industry to help local businesses in Australia create a better future for all."
Closer Collaboration to Realise the Cloud's Potential 
Cybersecurity challenges, organisational culture, lack of access to information technology (IT) infrastructure (software and hardware) and digital skills are the primary barriers to cloud adoption among MSMEs. To help MSMEs accelerate cloud adoption, the report outlines five key recommendations: 1) Identify how the cloud can streamline strategic business needs, 2) evaluate industry and government support, 3) upskill and educate employees in cloud, 4) review data and security policies, and 5) create a whole-of-business cloud migration strategy.
Australian business associations are on board to help with the cultural change, IT skills development and technology access to progress: "The COSBOA team is deeply committed to supporting small businesses accelerate their digital transformation journey, and we're excited by the opportunity these new cloud technologies present," said Luke Acherstraat, COSBOA CEO. "Small businesses are the heartbeat of Australia's economy, and often pioneers of innovation. Their adoption of digital tools and experimentation with cutting-edge technologies is crucial to tackling our nation's productivity challenges".
AWS helps MSMEs to seize opportunities in the digital economy and transform their business models using cloud technologies like generative AI. AWS offers programs tailored to the diverse needs of MSMEs that are at different stages of their digitisation journey. For early-stage startups, they can leverage AWS Activate to grow and scale their business. Since 2019, the program has provided more than $2 billion in AWS credits to help startups manage costs, get technical expertise, and access training and business mentorship. For small businesses looking to kickstart their cloud journey, the AWS Lift program, provides small businesses with a starter pack of cloud credits of up to USD 83,500 over 12 months, resources, and support from AWS Partners, and to help them start digitising in the cloud. AWS has accelerator programs to bolster MSMEs' growth in key sectors, including the AWS Healthcare Accelerators for Health Equity and Workforce Development, which build on the AWS Health Equity Initiative, and the AWS ANZ Generative AI Accelerator. MSMEs also have access to over 100,000 AWS Partners in the AWS Partner Network (APN), that can help them to find the tools, resources, and help to create the right solution for their business and customers. Additionally, MSMEs can use AWS Marketplace to find and deploy pre-configured software solutions through a curated digital catalogue, paying only for what they use.
exci is a Queensland-based AI-powered early bushfire detection startup that detects bushfires within minutes. Using AWS AI and ML technologies, exci has been able to build a wildfire detection platform that processes over 2.5 million camera images and 30GB of satellite data daily.
"Since 2021, we've been able to detect nearly 30,000 bushfires within Australia, minutes after ignition, and alert frontline responders five times faster than through human reporting. This has significantly reduced the economic, environmental, and social impact on our local communities and its agriculture," said Christopher Tylor, Co-Founder and Chief Executive Officer at exci. "Without advanced cloud technologies like AI and compute, our team would not have been able to develop and commercialise a scalable early bushfire detection and notification system to help reduce the billions of dollars in annual economic losses to Australia's agriculture and farming. "Through the power of cloud technology, we've not only doubled our team size in the past two years but also extended our reach across three countries to address and assist with comparable bushfire incidents."
Based in New South Wales, Osara Health is a digital health small business founded by oncologists to support the care experience for individuals impacted by cancer. Using AWS data analytics services, Osara Health has been integrated into the employee wellbeing programs at more than 50 large-scale organisations like AllState Benefits, Coca-Cola, Lendlease, and MinterEllison, across Australia, New Zealand, and the United States of America.
"At Osara Health, we have supported thousands of patients through their cancer diagnosis across the world. By scaling our application on AWS, Osara Health is able to connect patients to dedicated health coaches to provide them with equitable access to care, personalised guidance, and digital resources covering cancer treatment and behavioural change. This improves patients' overall care, empowering them with the tools to better manage their diagnosis and help them return to a sense of normalcy as quickly as possible," said Dr Raghav Murali-Ganesh, Chief Executive Officer and Radiation Oncologist at Osara Health. "Building on the cloud is critical for Osara Health to provide health coaching at scale and even across the most geographically isolated regions. With our program, 33% of patients have reported an improvement in their pain, and 73% are more likely to return to work after treatment."
"While there are significant benefits that are unlocked by micro, small, and medium businesses adopting at least a basic level of cloud technology, there is still a huge opportunity for them to further advance their cloud adoption as this will accelerate their ability to address some of the biggest challenges in society," said Aaron Hill, Managing Director of Economic Insights, Accenture Strategy and Consulting. "With more support from governments and the industry, these businesses will have greater ability to harness the power of transformative technologies such as generative AI to unleash even more innovation, drive economic productivity, and deliver meaningful change to society."
You can read the full report here.