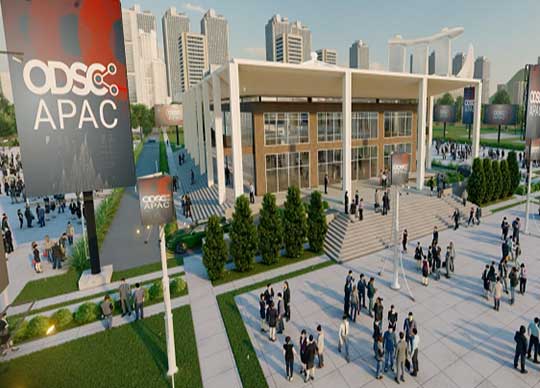 Hands-on training doesn't always have to mean in-person. A popular part of ODSC events is the training sessions, where attendees learn a new skill in a short period of time by walking through a new tool, language, framework, etc, in real-time with direct instruction from the presenter.
And this year's Virtual Conference proved how successful online learning can be, with more than 120 hours of unique content offered from over 50 speakers, over 70 sessions.
And it was no different virtually. By using Jupyter Notebooks, Codelab, RStudio, and other cloud-based coding platforms – in addition to the software on the attendees' machines – everyone was able to learn the same amount of information that they'd normally learn in-person. Everyone was able to chat, share content, and engage as they would in a workshop. The live and human feeling was evident and welcome.
Key Discussion:
The Microsoft Keynote, "Fostering AI Innovations Through Open Source Projects,"  with John Montgomery, Emma Ning, and Geeta Chauhan.
Global Collaborations and Interpretable Data Accelerate Health and Medical Research: Dr. Denis Bauer | Head Cloud Computing Bioinformatics/Principal Research Scientist | CSIRO
What's Japan Got To Do with World-Class Success in AI and Data?: Akira Shibata, PhD | Renowned Chief Data Scientist and Entrepreneur
How to do NLP When You Don't Have a Labeled Dataset?: Sowmya Vajjala, PhD | Research Officer, Digital Technologies | National Research Council
Data Science Supporting Clinical Decision Making: What, Why, How?: Professor Karin Verspoor | Dean/Fellow | School of Computing Technologies, RMIT University /Australasian Institute of Digital Health
NLP Center Stage at ODSC APAC 2021
Language is a huge topic in the APAC region, mainly since there's so much diversity in both culture and language across all of the countries. That lead to many researchers and professional data scientists sharing their work on language processing. A few highlighted sessions included:
Fairness in Natural Language Processing: Tim Baldwin, PhD Dir. / VP / Laureate Professor | ARC Centre for Cognitive Computing in Medical Technologies / ACL / Uni. Melbourne
Uncover Hidden Business Insights from Unstructured Data: Dr. Lau Cher Han | CEO / Founder | LEAD / CoronaTracker
NLP in Ecommerce: Mathangi Sri | Head of Data – GoFood | Gojek | Related Blog
Model, Task and Data Engineering for NLP: Shafiq Rayhan Joty, PhD | Assistant Professor / Senior Manager | NTU Natural Language Processing Group, Nanyang Technological University / Salesforce AI
Staying On Top of Current Trends At The Ai Expo
A big part of many companies' plans moving forward involves learning about the latest solutions in applied AI and data science. The Virtual AI Expo Hall saw 8500+ unique user interactions to the virtual booths & demo hall this year, proving that even in challenging times, companies and individuals are still optimistic and looking to the future of their organization.
The Demo Hall was an exciting way to see some of these solutions in-motion. By seeing walkthroughs and case studies of how a company can apply its tools to an organization, attendees witness the power that is applied AI. Some exhibitors included Microsoft, Facebook, SAS Global Technology Practice, Neo4j, Vertica, DSLAB Global, Imply.io, and Qubole.
What's next after ODSC APAC 2021?
The next event will be the ODSC West 2021 Hybrid Conference this coming November 16th-18th – a conference with both in-person and virtual options.