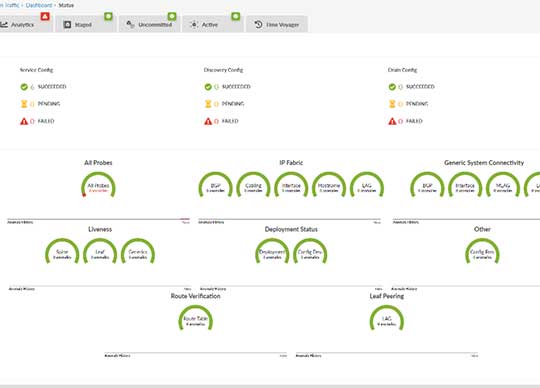 Juniper Networks has announced new enhancements to the Juniper Apstra platform.
"With the latest enhancements to our Apstra software platform, we are continuing our commitment to putting user and operator experiences at the forefront of everything we do," said Mike Bushong, VP of Data Center Product Management at Juniper Networks. "Apstra uniquely provides a single solution for the design, deployment and operations of data center networks in multivendor environments, leveraging true intent-based networking to maximise data center reliability with automation and assurance. The newest features enable us to double down on these core architectural differences, bringing reliability, simplicity and security to even more use cases and environments."
Apstra's edge deployment model supports collapsed fabric topologies, commonly used in smaller, remote edge data centers. With this new model, customers utilise a simple platform to reliably manage intent-based networking and analytics – from small edge data centers to large, centralised sites – using a single source of truth.
"Juniper Apstra multi-vendor support provides a single point of management across different vendors, giving us the freedom to innovate and not lock us into one infrastructure vendor. Apstra helps us build and maintain a reliable network by ensuring that the operational state of the network is always running as intended. The simplicity of the tool allowed us to achieve excellent time-to-value because the tool was easy to learn and implement." said Darko Petrovic, Principal Engineer, Advania.
"Our new virtualisation infrastructure, 'UNICA Next,' will be open and highly automated with the inclusion of Juniper Apstra, Contrail and QFX technologies. The new cloud network will provide superior flexibility, agility and scalability to deliver new services. With Apstra and Contrail, we can deliver end-to-end orchestration and automation that allows us to monitor and maintain our data center infrastructure with intent-based management and advanced telemetry on all devices, powering efficient operations and superior control." said Ana Montalvo Álvarez, Core Platforms and Network Systems Director, Telefonica Spain.
"Apstra automates and validates the entire data center network's operations, eliminating complexity, vulnerabilities and outages to ensure end-to-end reliability. Apstra is a must have tool that can help customers focus more on business outcomes instead of dealing with manual daily tasks." said David Pritchard, Senior Solutions Architect, SHI.