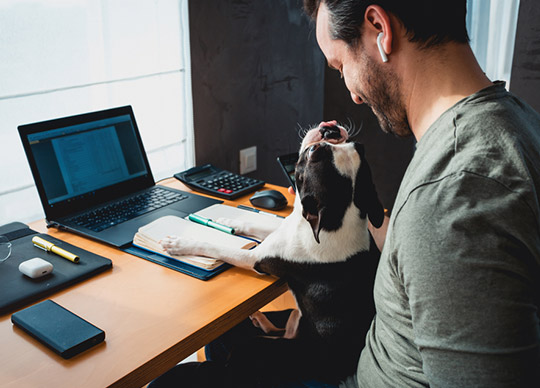 Over the past 18 months, organisations across the globe have been forced to review and reassess their working practices. Consequently, new practices emerged including letting employees work remotely. Now that the immediate threat of the pandemic is receding, it's important for organisations to consider ways to continue seven key practices into the future, according to Pitney Bowes.
Stephen Darracott, vice president and country manager, Pitney Bowes Japan, Australia and New Zealand, said, "In Australia, the mass adoption of remote working saw companies increase investment in tools and technologies that facilitate remote working without sacrificing productivity or workplace efficiencies. However, the changes that companies have implemented run deeper than technology deployments, and there are a number of cultural changes—like an increased focus on mental health or social responsibility—that businesses should maintain."
1. Hybrid working
Some organisations moved to work exclusively remotely in response to the pandemic. As the immediate threat recedes, more organisations are considering a hybrid approach where employees work in the office sometimes but still have the flexibility to work remotely as desired.
2. Focus on mental wellbeing
Many organisations are looking towards hybrid working environments to help encourage and maintain employee engagement through providing flexible working practices. Hybrid working environments also help to improve mental wellbeing in the workplace by alleviating some feelings of isolation that complete remote working can instigate, while also offering more flexibility for employees.
3. Increased collaboration and communication
Investing in collaborative and communicative technologies lets business leaders enhance communication among their workforces as they move forward from the pandemic. Video communication platforms and digital workspaces like Microsoft Teams have been critical in fostering greater workplace collaboration.
4. Embrace a mix of digital and physical communications
As much as typical ways of working went digital during the height of the pandemic, the importance of traditional communications like direct mail shouldn't be underestimated. When it comes to communicating with customers, digital is not the only channel to consider. Sending information by mail can make a big impact. Research by Accenture has shown that 81 per cent of Australians open and read their mail immediately and it is perceived more credible than email (34 per cent compared to 26 per cent). [1] Businesses should consider technology solutions that help them automate their mailing processes, so they can easily integrate different channels.
5. Expand business automation
Automating business processes helps to eliminate human error and reduce potential risk, which drives businesses further towards digital transformation. Automation can help improve the customer experience, help a business comply with new regulations (such as maintaining visibility of visitors and customers on site), ensure data accuracy, improve productivity, save time and money.
6. Consider cloud-based solutions
Another significant practice that organisations must continue post-pandemic is leveraging cloud-based software to underpin their flexible working environments. Research from Cisco predicts that globally 94 per cent of workloads will be processed by cloud data centres. [2] Cloud-based software enabled businesses to scale and adapt to remote working throughout the pandemic and it will continue to be an essential foundation of good business practices moving forward. Adopting cloud-based tools empower employees to remain productive and collaborative outside of the traditional office environment, letting them work from anywhere at any time.
7. Ongoing commitment to brand purpose and action
The pandemic has demonstrated the value and importance of global and local communities. Many organisations have recognised the continued importance of corporate social responsibility (CSR) programs and the intrinsic benefits in contributing to wider society. Throughout the pandemic, businesses have developed a stronger sense of purpose, with many diverting resources to help contribute repurposed laptops and food packages to hospital workers or pivoting to manufacturing hand sanitiser and personal protective equipment (PPE) to support the response.
Stephen Darracott said, "People are more likely to trust brands that don't put profit first. Research demonstrates that Australians put more trust in businesses that provided support to people during the pandemic. [3] It's essential that companies learn from this, and continue to live the values and purpose they promote in an authentic way."
References:
[1] https://auspost.com.au/content/dam/auspost_corp/media/documents/mails-role-in-the-digital-age-research-report.pdf
[2] https://newsroom.cisco.com/press-release-content?type=webcontent&articleId=1908858
[3] http://www.roymorgan.com/findings/8628-risk-monitor-trust-distrust-february-2021-202102030436