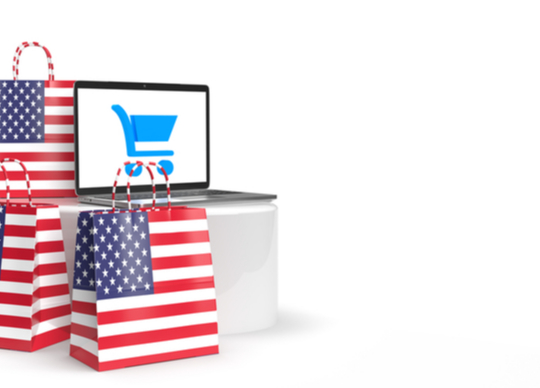 US shipments of desktops, notebooks, tablets, and workstations fell by 16% year on year in Q3 2021 to 30.3 million units. Notebook shipments slowed to reach 17.1 million units, a fall of 15% year on year, due to a sharp decline in Chromebooks as the education market reached saturation. Tablet shipments declined 24% to 10.0 million units as consumer demand waned. Desktops were the best-performing category, with shipments up 6% to 3.2 million units amid a return to on-premises work, making them a more viable option for commercial customers than a year ago.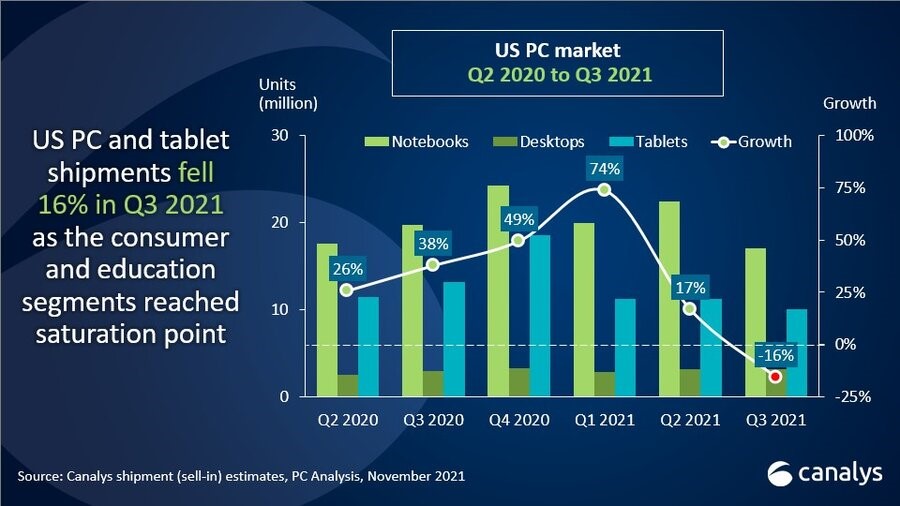 "The US PC market slowed after several consecutive quarters of double-digit growth," said Brian Lynch, Research Analyst at Canalys. "Despite this, overall shipments remained high when compared with pre-pandemic levels. Much of the decline can be attributed to the education and consumer segments, which have reached saturation point, leading to a dramatic fall in Chromebook and tablet shipments. Consumers who bought devices due to the pandemic have returned to more in-person activities, with a reduced need to refresh their devices so quickly, especially in anticipation of enticing deals to come during the holiday season."
Dell took first place in the US PC market in Q3, growing 10% annually to hit 5.6 million shipments. While other vendors suffered varying degrees of decline, Dell managed to grow thanks to its strength with commercial customers. At the same time, HP, the market's top Chromebook vendor, suffered a dramatic drop in Q3. Its shipments fell 31%, primarily due to the drop-off in education procurement. Lenovo grew shipments 3% year on year while Apple fell 14% as demand for M1 MacBooks started to level out following a string of extremely strong quarters. Acer rounded out the top five with its shipments falling by more than 30% due to its reliance on the slowing consumer segment.

US tablet shipments dropped by over 23% in Q3 as the need to support increased screen access, basic computing and connectivity for households fell compared to the height of the pandemic. Apple held onto first place with a 45% market share as iPads dominate in the US market. Amazon's tablet shipments fell by 41% but the company took second place as its low-cost Android models remain popular with children and as gifts. Samsung saw the smallest decline of the top five vendors, with shipments down just 3% to 1.9 million units as it represents the most common Android option offered by telcos and retailers. Microsoft and Lenovo made up the rest of the top five, each undergoing significant double-digit falls in shipment volumes.

The saturation of the education market was the chief contributor to the decline in the US Chromebook market. Overall, the education market shrunk 11% year on year and 53% quarter on quarter. Most school districts in the US are operating on a one-to-one student-to-PC ratio. This has led to a decline in Chromebooks in particular as much of the platform's volume comes from the segment. Chromebooks fell to just a 21% share of all notebook shipments in Q3 after achieving a 41% market share amid the final surge of education procurement in Q2. But Chromebooks for education will pick up in the short term. US$7.2 billion in education funding has been approved through the Emergency Connectivity Fund (ECF), some of which will be channeled into purchasing devices. Most of the effects of the ECF will be seen in the first half of 2022, in preparation for the 2022/23 school year.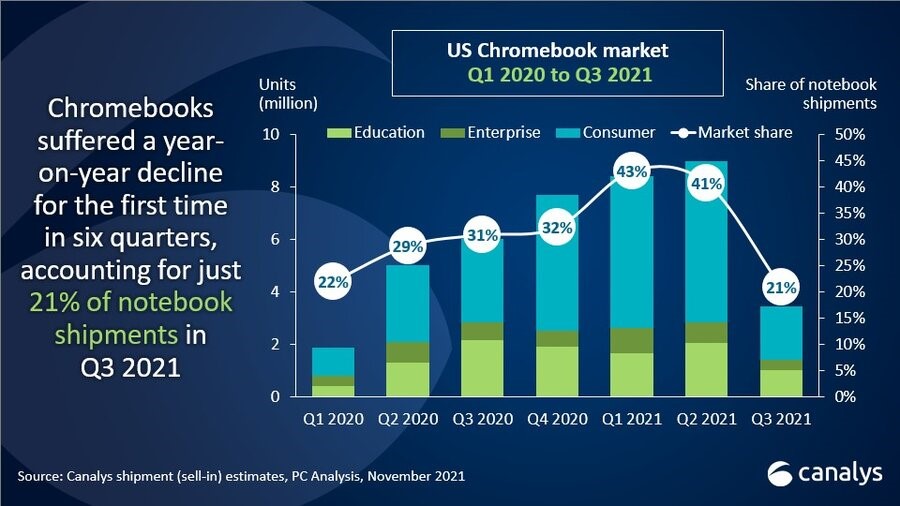 The commercial segment was the most resilient in Q3, remaining at a similar level to a year ago. The segment is set to maintain steady growth from a revival of small businesses and an ongoing return to offices.
"The uptick in commercial demand will primarily benefit vendors with broad portfolios across Windows devices and with deep relationships with business customers and the channel, such as Dell, HP and Lenovo. Dell did well in Q3 in part due to its focus on the segment," said Lynch. "This also presents an opportunity for MacOS and Chrome OS to increase penetration in the space as small businesses that are more agile at PC deployments may look to adopt new operating systems as employees now work in a vastly different way to before the pandemic."
The dip in demand from the consumer and education segments will temporarily slow the US PC market but the incredible shipment levels seen over the past year and a half were bound to tail off eventually and shipments are still high when compared to pre-pandemic levels. Shortages continue to hinder the PC industry at large and an imbalance between supply and demand will last well into 2022.
"Despite its first quarter of negative growth since the start of the pandemic, the outlook for the US PC market remains overwhelmingly positive. Strong signals from the enterprise space and the eventual return of education procurement, both from public sector funding and general upgrading of devices, puts the market in a strong position for continued success," added Lynch.