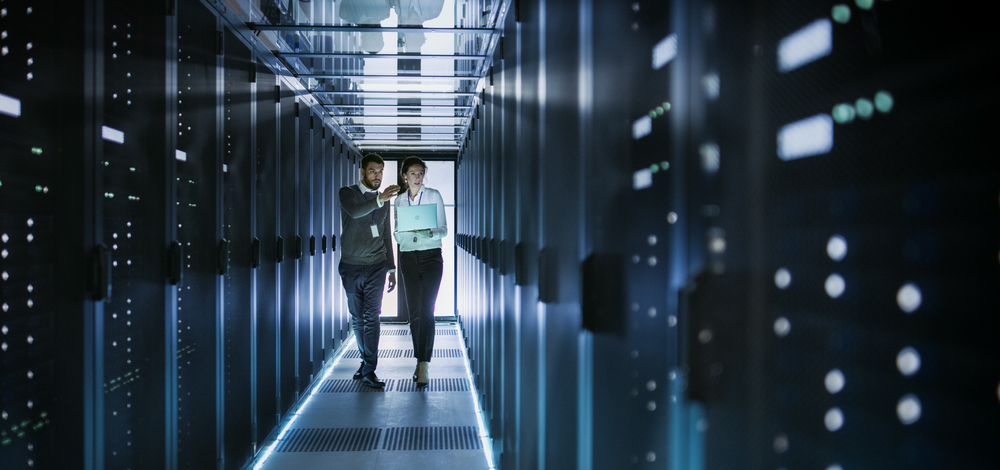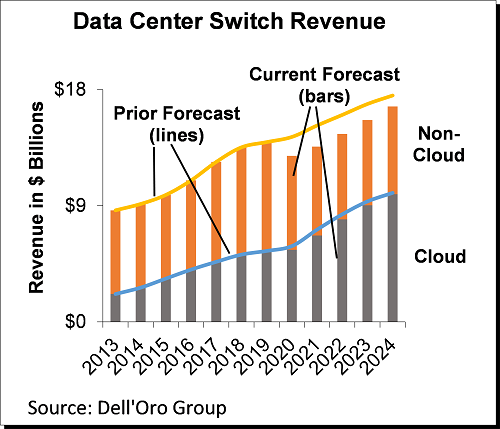 Dell'Oro Group published an update to its Data Center switch market five-year forecast. The forecast shows that the data center switch market is expected to grow at a 4% CAGR from 2019 to 2024, approaching $17 B by the end of our forecast period. Despite the COVID-19 pandemic, our revised forecast of 4% CAGR shows only a slight downward adjustment from our prior January forecast of 5%.
Most of the downward adjustment was driven by the non-Cloud segment, which includes enterprises as well as Telco Service Providers (SPs). The non-Cloud segment comprises about 60% of the total data center switch revenue and accounted for more than 70% of the downward adjustment for every year during our forecast period. In the meantime, our current forecast for the Cloud segment shows only a slight downward revision, relative to our prior January report as shown in the chart. Our Cloud segment includes the Top 4 U.S Cloud SPs (Google, Amazon, Microsoft, and Facebook), The Top 3 Chinese Cloud SPs (Alibaba, Tencent and Baidu), and other Tier 2/3 Cloud SPs that are mostly Content Cloud providers.
Within the non-Cloud segment, we have lowered our forecast for large enterprises, as well as for small and medium enterprises. However, while we project the "Large Enterprise" segment (which includes Fortune 2000 companies) to return to growth and surpass its 2019 pre-COVID revenue level in 2021, we predict that small and medium enterprises will continue to decline during our forecast period—never to return to growth, for reasons explained in more details in our Ethernet Data Center Switch Five-Year Forecast Report.
Within the Cloud segment, we essentially maintained our projections for the Top 4 U.S. Cloud SPs, as well as the Top 3 Chinese Cloud SPs, as our underlying assumptions for the growth in those segments have remained unchanged. These assumptions are mostly driven by the timing of the 200/400 Gbps adoption as well as the consumption/digestion cycles. However, we have lowered our forecast for the "Rest of Cloud" segment, as macroeconomic headwinds may affect the ability of these Tier 2/3 Cloud SPs to grow revenue, consequently impacting their ability to expand their data center infrastructure to support their business. We believe that some of these Tier 2/3 Cloud SPs may rely on Tier 1 Public Cloud providers to expand capacity during and after the pandemic. Leveraging Public Cloud SPs is an opex alternative that allows them to scale up and down capacity according to the demand.
Other highlights from the report
400 Gbps adoption in 2020 will continue to be driven mainly by Google and Amazon, and benefit mostly white box switch vendors. In the meantime, we don't expect the adoption of 200/400 Gbps by Facebook and Microsoft to materialize until 2021. Facebook and Microsoft still deploy a fair amount of branded switches but we do expect a potential change in the vendor landscape in tandem with the 200/400 speed transition at these accounts.
We predict Google, followed shortly by Amazon, will spearhead the adoption of 800 Gbps in 2023/2024. 800 Gbps will be driven by the availability of 100 G SerDes technology which will allow to build dense 100 Gbps or dense 400 Gbps systems in 1 U form factor (i.e., each 800 Gbps port can be used as 2×400 Gbps or 8×100 Gbps). 100 G SerDes will also allow to match the electrical lanes with the optical lanes.
With the transition to 400 Gbps and higher speeds, the role played by optics will become even more crucial for several reasons including increased optics prices, the possibility to displace DWDM systems in the data center interconnect (DCI) and the potential migration to co-packaged optics at high speeds. For these reasons, some switch vendors are increasing their offerings of optical transceivers. In the report, we explain if/when we will include optical transceivers in our data center switch revenues. We also expect to see many consolidations and acquisitions in the market in order for switch, chip, and optics vendors to position themselves during this transition.
The adoption of disaggregated switch systems will continue to increase during our forecast period, although at a slower rate than in the prior years. Early adoption of disaggregated systems has been driven mainly by large Tier 1 Cloud SPs and has greatly affected the market given their scale (involving a server-installed base of well over one million). However, the next wave of adoption will be driven either by Tier 2 Cloud SPs (which are significantly smaller in size than the Tier 1) or by some large enterprises.
The Dell'Oro Group forecast the following port speeds: 1000 Mbps; 10 Gbps; 25 Gbps; 40 Gbps; 50 Gbps; 100 Gbps; 200 Gbps; 400 Gbps.