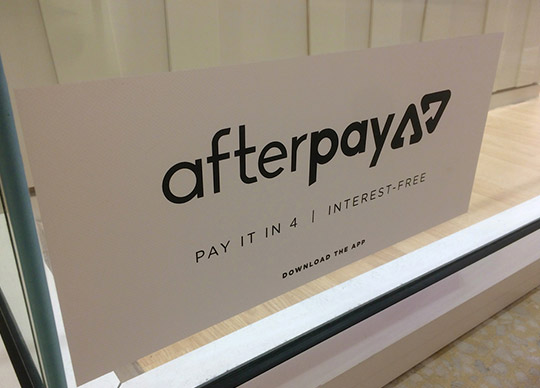 Staff Writer
US fintech giant Square is buying the prominent Australian buy now pay later (BNPL) business Afterpay for AU$39 billion. It is Australia's biggest buyout deal to date.
The all-stock deal sees Afterpay shareholders get 0.375 shares of Square class A stock for every Afterpay share they hold, a substantial premium on Afterpay's Friday closing price.
"This deal makes a lot of sense for Square," says Mark Palmer, Managing Director at institutional brokerage BTIG. "Buy now pay later has really taken off during the pandemic. If anything, Square was a bit late to the game."
Afterpay has 100,000 merchants and 16 million customers worldwide. Founded in 2014 by joint chief executives Anthony Eisen and Nick Molnar, Afterpay generated AU$5.57 billion in sales in Q1 2021.
"Square and Afterpay have a shared purpose," said Square's founder Jack Dorsey on Monday. "We built our business to make the financial system more fair, accessible, and inclusive, and Afterpay has built a trusted brand aligned with those principles."
Square is best known locally for its square-shaped card reader. Founded in 2009 by Mr Dorsey and billionaire businessman James (Jim) McKelvey, the fintech also manages contactless card payments and point of sale systems for retailers. In Q2 2021, Square generated a gross profit of US$1.14 billion, up 91% year on year.
At its core, a plug and play business model that allows different participants to buy and sell, Square competes with the likes of PayPal, Shopify and Intuit. Square wants to bring Afterpay's merchants and customers onto its platform.
"This was a bit of the departure from their typical approach, which is to innovate organically," says Mark Palmer. "But they really needed to catch up, and this enabled them to do that."
The BNPL model is challenging the traditional credit card industry. Afterpay skips credit checks, favouring other metrics to assess a customer's ability to pay for goods and services across four fortnightly instalments.
Many criticize that business model, but it is fast finding favour, particularly with younger customers who dislike credit cards and paying interest on debt.
According to an ASX filing on Monday, Square plans to integrate Afterpay into its existing Seller and Cash App business units. This will enable the smallest of merchants to offer BNPL at checkout.
"By combining with Square, we will further accelerate our growth in the U.S. and globally, offer access to a new category of in-person merchants, and provide a broader platform of new and valuable capabilities and services to our merchants and consumers," said the Afterpay founders.
While the deal sees Square move into the BNPL space, Afterpay says the buyout is also an opportunity to drive growth across multiple strategic levers. That includes enhancing both the Seller and Cash App ecosystems, adding value, differentiation, and scale to Afterpay, and driving long term growth.
Monday's deal is also a big payday for Afterpay's founders. Famously started in a Melbourne bedroom, Nick Molnar and Anthony Eisen will each collect approximately AU$2.6 billion worth of Square stock.