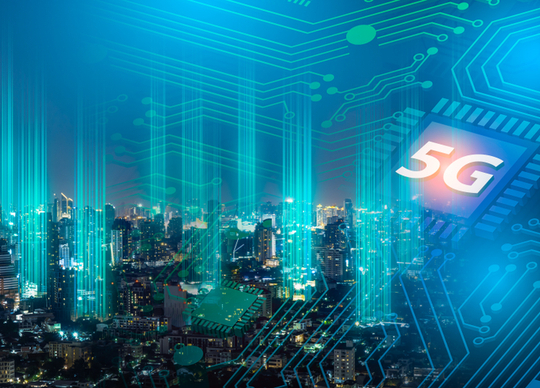 The top 20 telecom operators in the Asia-Pacific (APAC) region reported a year-on-year (YoY) cumulative average revenue growth of 7.5% in 2021, primarily due to the substantial growth in 5G subscriptions and a surge in average revenue per user (ARPU), reveals GlobalData.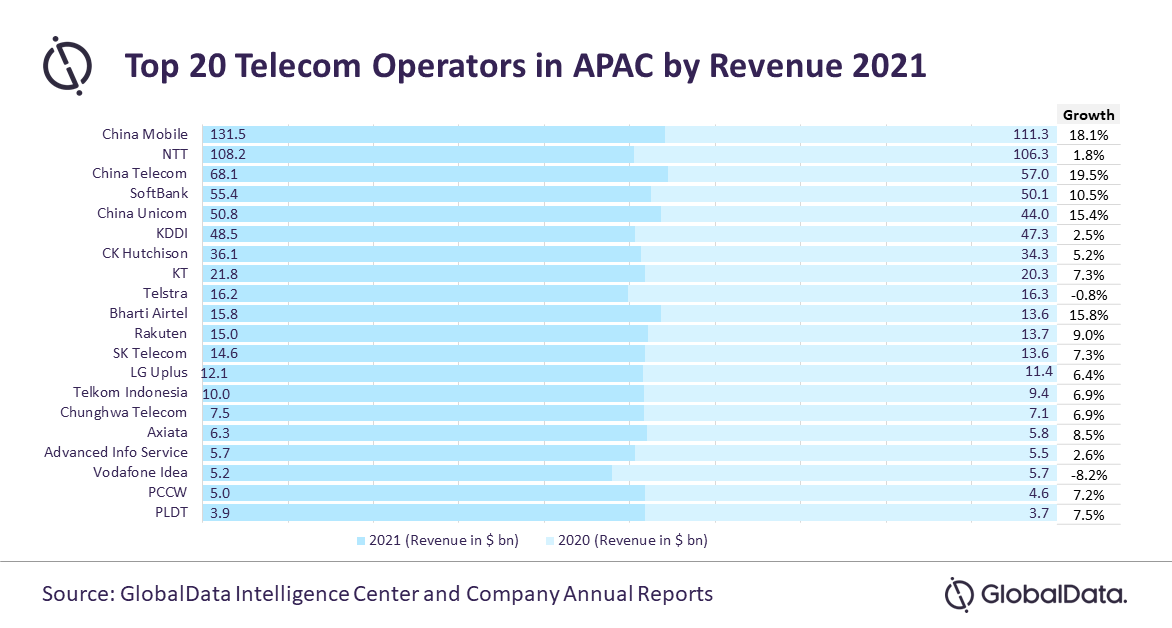 Among the top 20 telecom operators, 90% reported YoY growth in revenue with four companies reporting more than 15% growth in 2021. The top four gainers are Chinese telecom giants—China Mobile, China Telecom and China Unicom and Indian telecom major Bharti Airtel.
Ragupathy Jayaraman, Business Fundamentals Analyst at GlobalData, comments: "A significant YoY increase in mobile subscriptions (6.1%), handset data traffic (35.4%), and 5G subscriptions (117%) resulted in China Telecom Corp posting a 19.5% YoY revenue growth in 2021."
China Mobile witnessed a 18.5% YoY revenue growth in 2021, primarily due to the expansion of its 'Customer, Home, Business, New' (CHBN) markets, increase in sales of data, information and communications technology services, smart home services, digital transformation, mobile cloud, and digital content.
China Unicom witnessed a significant rise in service revenue due to the net addition of more than 11 million mobile subscribers and a higher mobile ARPU, which went up by 4.3% YoY in 2021.
With considerable 4G customer additions of 21.5 million and a 22.8% YoY increase in mobile ARPU, Airtel reported a 15.8% YoY revenue growth in 2021. The company surpassed 200 million customers in Q4 2022. It also recorded impressive growth in home broadband and digital TV businesses.
Jayaraman continues: "A surge in revenue in enterprise business, and Yahoo! JAPAN/ LINE Corp businesses allowed SoftBank to record a 10.5% YoY revenue growth in 2021. The 'Arm' segment's 43.4% YoY growth was driven by a rise in technology royalty revenue (20.1%) and technology non-royalty revenue (61%), which in turn helped the company to improve its performance."
Telstra and Vodafone Idea were the only companies in the list that reported a YoY decline in revenue. Telstra's revenue decline was due to a fall in legacy and product service revenue, loss of international roaming revenue, and reduction in hardware and equipment sales volumes. A tariff increase led to a drop in Vodafone Idea's subscriber base, which in turn affected its revenue stream in the current fiscal.
Jayaraman concludes: "Telecom operators largely benefitted from the continued steep rise in 5G subscriptions, which could mitigate the fall in fixed line services. In addition, increased penetration of IoT services and the rapid rollout of 5G networks will allow telecom operators to further enhance their revenue performance."