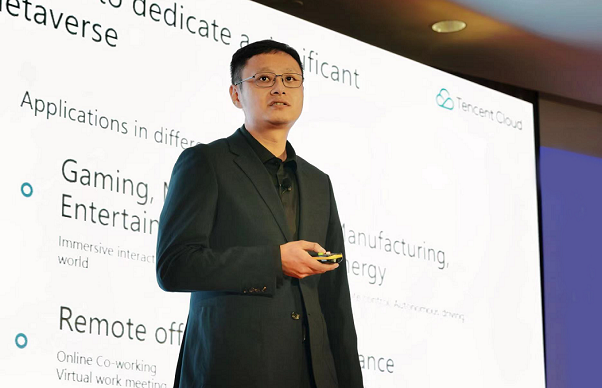 Tencent Cloud has announced its development of the Web3 ecosystem, which aims to significantly contribute to the evolving growth of the global Web3 community.
Tencent Cloud also unveiled the development roadmap of a full suite of blockchain API services and its brand new Tencent Cloud Metaverse-in-a-Box offerings, providing a strong technological foundation for Web3 builders while reinforcing its commitment to be the digital enabler for the Web3 industry.
Poshu Yeung, Senior Vice President, Tencent Cloud International, said, "At Tencent Cloud, we see a future with Web3, a new iteration of the internet that ushers in the concept of 'Immersive Convergence' where the physical and digital economies meet and integrate. With more businesses now keen to explore and adapt to an efficient, transparent digital future, we are ready to leverage our many years of technical experience in the fields of games, audio, and video to provide strong technical support for Web3, and work with industry partners to create a more immersive experience and nurture a better Web3 ecosystem." said Poshu Yeung, Senior Vice President, Tencent Cloud International.
As the technology continues to evolve and move further into the new era, more global partners are now looking to integrate their operations and services to adapt and scale into Web3. Tencent Cloud is well equipped to address their needs and demands, joining hands with the world's top Web3 ecosystem partners and leveraging its high-performance, high-quality infrastructure and cloud technologies.

At the Tencent Cloud Web3 Build Day held today in Singapore, Tencent Cloud unveiled its plan to promote the sustainable growth and development of the Web3 ecosystem, and to empower startups and Web3 builders to integrate new developments more seamlessly. Targeting Web3 builders across the fields of security, storage, identity management, middleware, development tools and data and analytics, Tencent Cloud will offer the Web3 builders cloud solution credits, marketing workshops, and publicity opportunities leveraging Tencent and Tencent Cloud's ecosystem and resources through the Tencent Cloud Web3 Ecosystem Alliance. Selected Web3 builders will also be given priority on product integration and co-creation with Tencent and its partners.
Preparing for the Web3 Future
Tencent Cloud also signed a Memorandum of Understanding (MoU) with Ankr, a Web3 infrastructure provider to jointly develop a full suite of blockchain API services which provides a high-performing globally distributed and decentralized network of Remote Procedure Call (RPC) nodes, enabling builders to power their Web3 projects.
This new suite of blockchain API services will be deployed on top of Tencent Cloud's infrastructure and will provide projects such as Web3 games and Web3 social applications with reliable and efficient connections to most of the popular blockchains.
The event also featured Tencent Cloud's announcement of strategic collaborations with three other Web3 blockchain partners to build a stronger foundational infrastructure that helps global builders accelerate their adoption of Web3 for the decentralized future.
Avalanche – a smart contracts platform developed by Ava Labs
The consensus protocol and subnet infrastructure of Avalanche enable Web3 developers to easily launch custom, highly-scalable solutions. A fully synchronized Avalanche full node has been set up on Tencent Cloud, and it will enable efficient and quick node setup for developers. Also, with Tencent Cloud's global infrastructure footprint and expertise in cloud solutions, the collaboration will seek to empower Web3 builders with practical tools to better build on the Avalanche blockchain, and will explore blockchain solutions for enterprise customers in traditional sectors. ▪ Scroll aims to build an open-sourced fully EVM-compatible zk-Rollup with a strong proving network. Currently, Scroll has started using Tencent Cloud's infrastructure to establish the initial scaling solution foundation, while validators and sequencers within the Scroll network can benefit from Tencent Cloud's high-performing infrastructure to achieve performance stability and resource decentralization. Tencent Cloud will also provide cloud credit support for selected teams of builders in the Scroll community.
Scroll – an open-sourced bytecode-level equivalent zkEVM zk-Rollup to scale Ethereum
Sui – a Layer-1 blockchain being initially developed by Mysten Labs
Leveraging both Tencent Cloud's expertise for cloud solutions for games and Sui's blockchain network that's optimized for high-performing games, the collaboration will provide builders with effective cloud-based game development tools and dedicated support to optimize the on-chain gaming experience. Web3 game developers using Tencent Cloud's infrastructure can seamlessly run games on the Sui network.
Tencent Cloud Metaverse-in-a-Box
At the event, Tencent Cloud also unveiled its brand-new Tencent Cloud Metaverse-in-a-Box, a comprehensive, one-stop, and easy-to-use solution. It fully integrates Tencent Cloud's extensive infrastructure, high-performance products, out-of-box SDKs and low-code solutions, which can be widely applied in gaming, media and entertainment, as well as conventional industries and Web3 natives.
Addressing customers' and developers' requirements under different scenarios, Metaverse-in-a-Box allows businesses to develop metaverse applications rapidly, thus offering them more secure acceleration, more flexibility within the communities, as well as a truly immersive experience.
Tommy Li, Vice President, Tencent Cloud, shared, "Built on our leading technologies and enormous industry experience, we are proud to introduce Metaverse-in-a-Box with the goal to accelerate public sectors and enterprise clients' journey to the Metaverse." Tommy Li, Vice President, Tencent Cloud