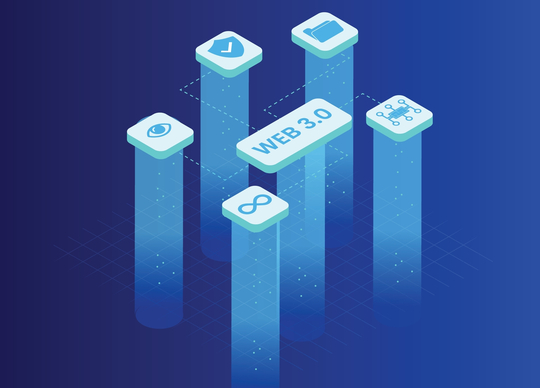 CEOs and business leaders across industries are eagerly discussing the impact of emerging technologies and innovations such as the development of web 3.0, the third iteration of the Internet.
Web 3.0 promises free and transparent flow of digital content and data with privacy and decentralization. Against this backdrop, startups are leading the charge to offer big tech alternatives for a smooth transition into the new Internet era, says GlobalData.
Kiran Raj, Principal Disruptive Tech Analyst at GlobalData, comments: "A sharp rise in public awareness about data privacy has stimulated the movement of fundamentally restructuring the Internet. Blockchain-powered web 3.0 holds a promise to realize the Internet's transition from its information-centric model to a user-centric decentralized model."
Vaibhav Gundre, Senior Disruptive Tech Analyst at GlobalData, notes: "In 2021, Google, Meta, Netflix, Amazon, Microsoft, and Apple combinedly generated and controlled nearly 57% of the global Internet traffic. Web 3.0 envisions to cut the big tech influence by offering decentralized social networks, browsers, data storage, computation, video and music streaming, content monetization, banking services, cloud-based payments, and others to create decentralized ecosystems across industries."
GlobalData's FutureTech Series report, 'Internet's Next Revolution: Can Web 3.0 Unlock Decentralized and Intelligent Internet?', reveals the evolving use cases and the potential of web 3.0 in various industries.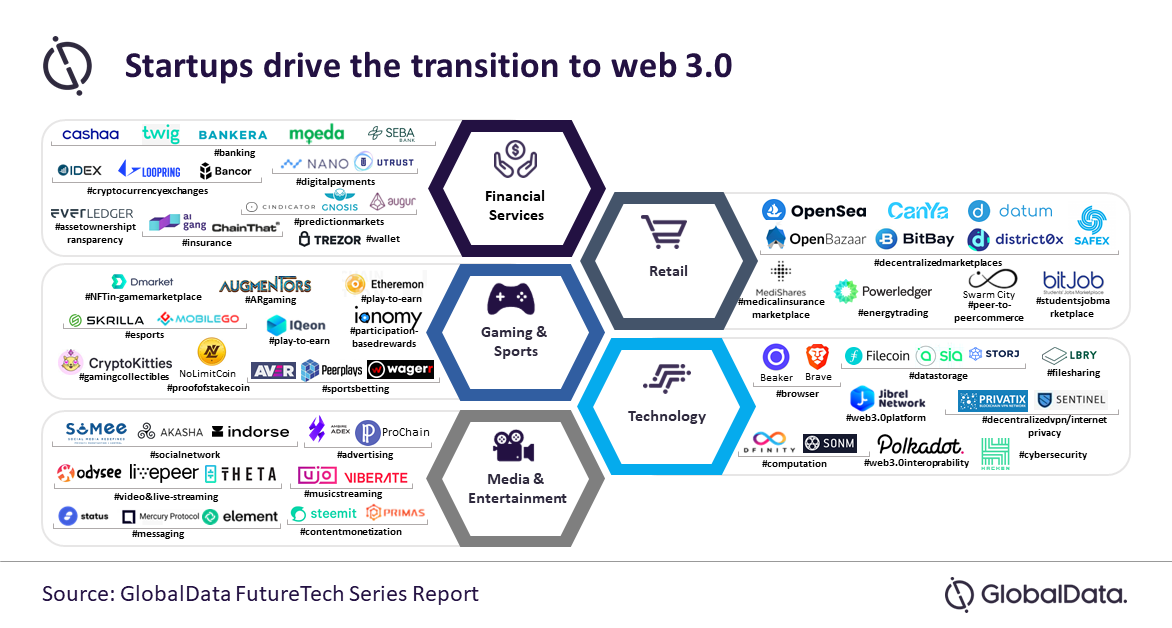 Financial Services
Web 3.0 networks offer a fast, convenient, and community-governed ecosystem of financial services to enable receiving or sending of funds, automated cryptocurrency transactions, better collaboration between insurers and brokers, secure crypto wallets, and prediction markets. UK-based Cashaa provides a single platform to manage fiat and crypto assets to accelerate the consumer adoption of blockchain services.
Media & Entertainment
Decentralized social networks, music, and video streaming platforms allow users to keep control of their data and enable a consumer-centric economy. Users who spend their time or post content on social networks or content streaming platforms can earn in cryptocurrencies while retaining the ownership of their data. Singapore-based Indorse, a professional network like LinkedIn, incentivizes users to share their skills and accomplishments as well as endorse others. The proofs of skills in the form of certificates or videos can be uploaded to the platform which other users can verify and earn cryptocurrencies. Once endorsed, the user becomes eligible for the opportunity to earn.
Technology
Web browsers, data storage, and computation services are dominated by big tech players like Google, Amazon, and Microsoft. Web 3.0 startups intend to provide decentralized solutions that promise secure and cheap data storage by leveraging distributed computing of users. US-based Filecoin introduces passive revenue streams to users to enable data storage on devices so that the data is decentralized and potentially lacking a single point of failure.
In addition, supply chain and logistics, personalized fashion, healthcare, identity management, home rental, and telecom networks are primed to witness the penetration of web 3.0 compatible solutions in the future.
Gundre concludes: "On top of the data privacy concerns of the Internet users, the surge in demand for web 3.0 services will be driven by the global regulatory scenario around data protection and consent-based use by big tech players. The growing popularity of cryptocurrencies and country-specific laws on their use are set to further increase the popularity of web 3.0 applications across industries."