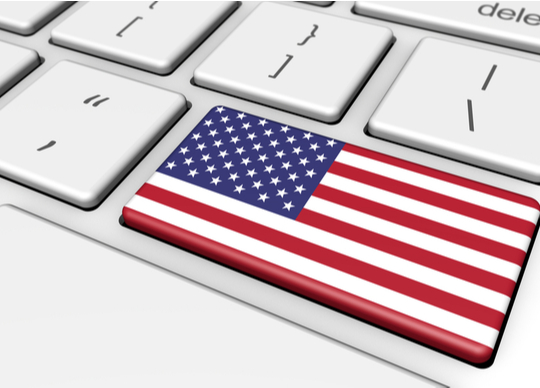 US PC shipments (including tablets) grew 1% in 2021, despite suffering a 28% fall in Q4 2021. Overall, the last quarter saw 33.8 million shipments of desktops, notebooks, workstations and tablets.
Notebook shipments fell 28% year on year to 17.5 million, mainly due to a decline in Chromebooks as the education market reached saturation.
Tablet shipments shrank 31% to 12.7 million as consumer demand slowed significantly. Desktops were the best-performing category, up 9% to 3.6 million units as commercial investment in on-premises work continued to increase.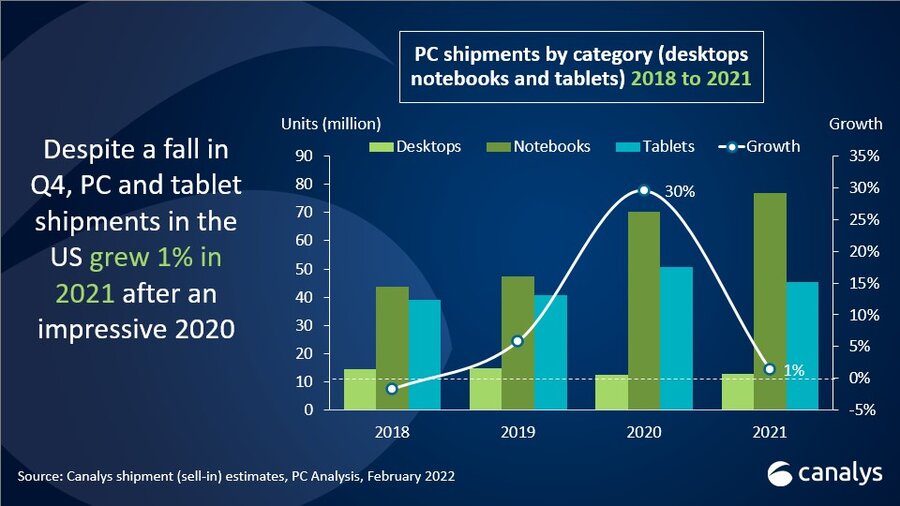 "The US PC industry's overall growth in 2021 highlights the long-term potential of the demand initially created by the pandemic," said Canalys Research Analyst Brian Lynch. "While Q4 2021 showed less impressive performance than the year overall, the market is well positioned to continue providing significant opportunities, especially from a revenue perspective, for the coming year amid strong business demand. The commercial segment was the only area to maintain shipment volume levels from the fourth quarter of 2020, and saw PC vendors' revenue rise by 13% to more than US$9 billion. The US was a prioritized market in the early stages of the pandemic as supply constraints hindered the industry. Many firms, however, still struggled to acquire specific models and features, leading to ongoing pent-up demand. The first half of 2022 will see a concerted effort by firms to outfit employees with suitable PCs for their elevated daily needs. And while demand has tailed off in the consumer segment, it is expected to maintain shipment levels higher than those seen before the pandemic for years to come."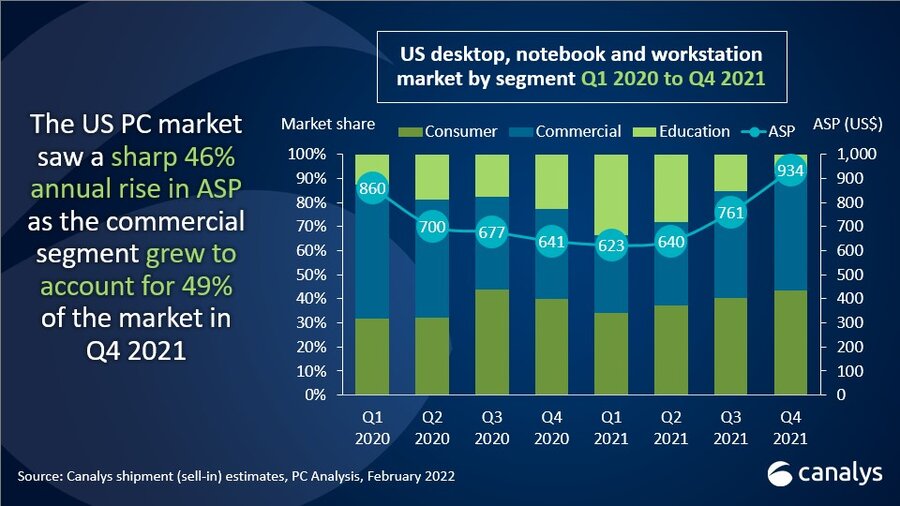 The Chromebook market had a second consecutive quarter of poor shipment numbers, posting a 73% fall from Q4 2020. "While it is was an undeniably poor quarter for Chrome, significant declines were expected after the surge in shipments that coincided with peak education demand due to lockdowns," said Lynch. "The education market will return to high levels of output by the 2023/24 school year as school boards seek to refresh devices bought during the pandemic. The need for devices with better specifications, such as larger displays and faster processors, will provide renewed opportunities for Chromebook vendors. The first half of 2022 is also set to provide a boost to Chromebooks as some schools will use a portion of the allotted US$7.2 billion approved via the Emergency Connectivity Fund to support the spread of digital education."
In the market for PCs excluding tablets, HP led all vendors for full-year 2021, boosted by a strong standing in the Chromebook market, which led to struggles in Q4 as demand from the education segment fell off. Dell gathered momentum as the year went on, and achieved the top spot in Q4, with its tally for the full year leaving it in second place with 22.0 million units shipped. Lenovo achieved third place, with impressive growth of 11% over 2020. Apple and Acer rounded out the top five, with each seeing growth over 2020 as well.
In tablets, Apple maintained its dominance in both Q4 and the full year, ending 2021 with 19.1 million iPads shipped, though this represented a 17% drop from 2020. Amazon and Samsung took second and third place with 10.9 million and 7.9 million units respectively as the country's key Android vendors. Both saw relatively weak holiday season demand compared to the same period in 2020. Microsoft and Lenovo placed fourth and fifth respectively in the 2021 tablet market.