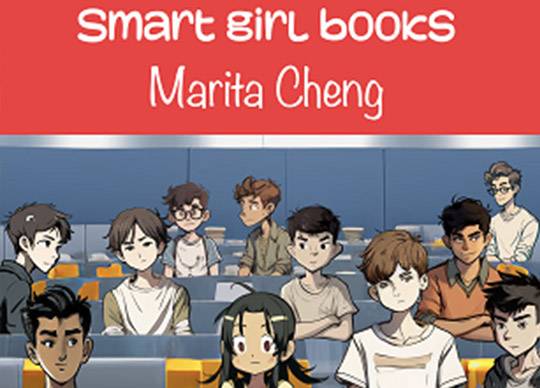 Young Australian of the Year 2012, roboticist and girls in technology advocate Marita Cheng has written a book using generative artificial intelligence (AI) art to inspire girls into science, engineering technology and mathematics (STEM).
According to Cheng, the book is the world's first children's book memoir using generative AI, generating 10,400 images over 8 months to create this 42-page book.
Although researchers have been working on generative AI for many years, it didn't really gain widespread adoption until recently.
In January 2021, OpenAI announced DALL-E, a new state-of-the-art algorithm to create any image from just a text description.
The world took notice in August 2022 when Stability AI released their model, data, and code as open source, allowing anyone to use the technology and build new experiences.
"I was really curious about this new technology coming out, and wanted to work on a project with it, to experiment and learn more," says Cheng. "Without generative AI, I wouldn't have written this book". Cheng decided to write this book in September 2022, and started writing it a month later in October 2022.
With these "text to image" tools, there is very little control over what images get generated. When writing a book, there is no easy way to ensure that the characters in each image look the same.
"Character consistency was my biggest challenge. Before I figured out how to do that, I didn't know if I could actually make this book. I spent a lot of time on ensuring character consistency because I wanted people to be able to champion the book's hero, and you can't do that if the character isn't the same throughout the book."
In order to solve this problem, Cheng used a text input that would generate a single character in many various poses at the same time in a single image.
She then cropped out each character to use in different scenarios.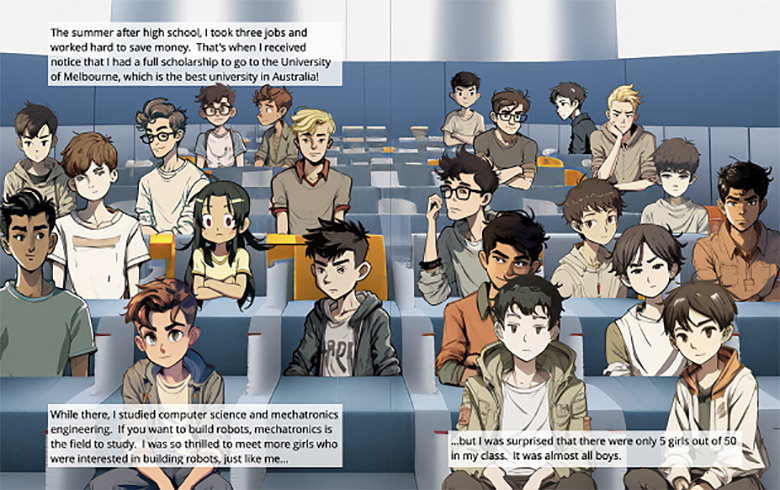 Cheng then edited all of the images together.
She generated separate background images and composited the images together, overlaying her cropped out character onto her backgrounds.
"Growing up, I loved picture books with rich backgrounds filled with details, and characters that really pop out of the page, full of life, and so that's what I created for this book".
Cheng also collaborated with the generative AI tool ChatGPT to name her book.
ChatGPT, built by OpenAI, is a chat-based tool to do just about anything with text including answering questions, summarizing content, helping edit, creating stories, and even answering exams.
"I spent a day brainstorming book titles with ChatGPT. It definitely made that process faster. We came up with 374 book titles together."
The book is a memoir of Cheng's life.
The book covers from Cheng's childhood growing up by the Great Barrier Reef in Australia to her founding Robogals, becoming Young Australian of the Year, building robots and starting robotics company Aubot.
"I see this book as a continuation of my women in STEM advocacy work. I'm proud of this book. I'm proud of the images in the book. I spent a lot of time editing the images in the book and making it just right. I'm proud to share stories to inspire girls about STEM, to be gritty, courageous, creative and passionate."
Cheng thought it would take her just one day to complete the book.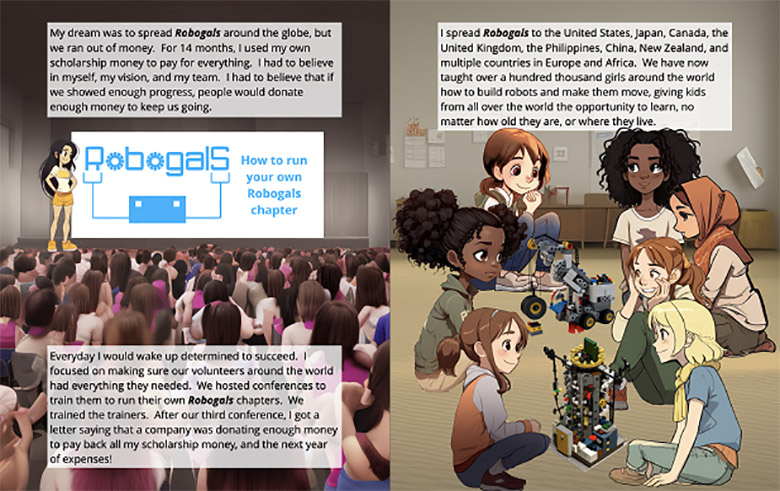 It ended up taking her 8 months.
This included creating countless drafts of the text, months of image generations, laying out the book, editing the images, getting the book ready for printing, checking print quality, brainstorming the title, making the cover page, etc.
"I think like any new technology, it will enable more people to create. But I think the audience will still value fundamentally good stories and good products. Overall, the best books and media will succeed. Although Cheng could have tried to use ChatGPT to write the text in the book, she chose to author all the words herself. "I wanted a fundamentally good story, so I wrote all the text myself, and edited it until it was just right", says Cheng.
Cheng previously founded Robogals in 2008 to get girls interested in science, engineering, technology and mathematics (STEM) careers and tertiary studies.
Robogals has now taught over 120,000 girls robotics across Australia, the UK, USA, Japan and other countries, inspiring new generations of girls in STEM.
Cheng now runs Aubot, a robotics company that is currently developing an 8-degree-of-freedom robotic arm on a movable platform, Jevaroo, to help people with a disability in the home. In 2019, Cheng was awarded a Member of the Order of Australia.
Smart Girl Books: Marita Cheng is now available to purchase on Amazon.com, and can be purchased internationally in 12 countries