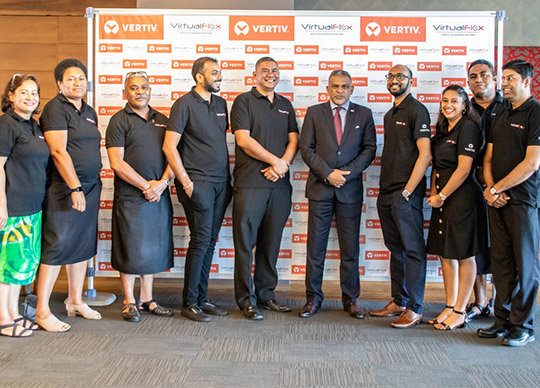 Vertiv today signed a new channel partnership with VirtualFlex, one of Fiji's fastest-growing ICT solutions partners specialising in enterprise-level and cloud solutions. The partnership comes as demand in Fiji surges for uninterruptible power supply (UPS) technology to maintain business continuity and IT and data centre availability during power outages.
The companies are targeting growth within Fiji's government, financial services, healthcare, education and internet service providers, and have already signed a number of end user deals, including with Fiji Revenue & Customs Service and retail group Tappoo Group.
Fiji has experienced several unplanned power outages in the past few months, and the hurricane season is just around the corner. VirtualFlex CTO Navin Lal says the issue, coupled with major investments from the Government, ISPs, Service Providers and others, has emphasised the need for greater resilience and availability in IT and data centre systems.
"Fiji has become a far more digitised nation in recent years, largely driven by the pandemic," said Mr Lal. "We need to be connected all the time, and we need the right systems in place to maintain that connectivity – the economy depends on it. Vertiv is a leader in this space, and we see a huge opportunity to help Fiji's most important industries shore up their resilience, to help Fijian people and businesses stay connected."
Mr Lal added that the partnership can benefit some of Fiji's rapidly expanding industries including outsourcing, which has nearly tripled its employment numbers since 2019. "The modern outsourcing industry needs resilient cloud systems in place to provide a reliable service to key markets such as Australia and the U.S.," he said. "We can help bring that peace of mind to this exciting industry as it expands."
The partnership was at an event hosted by Vertiv and VirtualFlex at the Grand Pacific Hotel Fiji, attended by the Honourable Aiyaz Sayed-Khaiyum, Attorney General, Minister for Economy, Civil Service and Communications, and Minister responsible for climate change.
Vertiv Business Development Manager Chris Westall said reliable data centre infrastructure will provide huge benefits as Fiji faces continual outages.
"On one hand, reliable infrastructure will maintain IT and business continuity when there are power outages," said Mr Westall. "On the other, if roads and modes of transportation are also out of action, more people will be able to reliably work from anywhere across all kinds of applications while these systems are being repaired.
"Vertiv's global experience as an architect of continuity and VirtualFlex's local expertise and service will be a powerful combination for governments and enterprises alike."