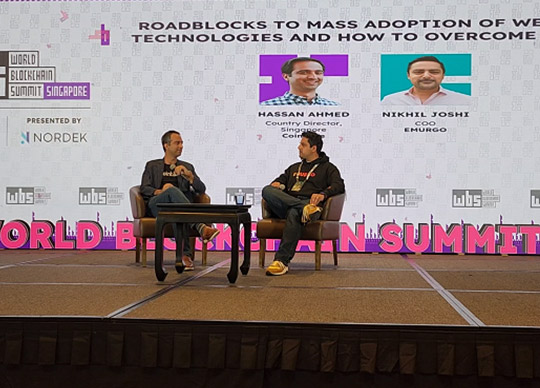 With the on-going turmoil in cryptocurrencies, an inevitable question for the blockchain, crypto, and the general Web 3.0 ecosystem builders, users, observers, and the public are asking "what's next"? Additionally, they are also pondering how to overcome the challenge in the bear market, and what are other roadblocks to further adoption.
Further testing the nerves of investors, developers and users is the recent news of the charges [1] brought by the United States government (The Securities and Exchange Commission ("SEC")) against Coinbase, Inc. for operating its crypto asset trading platform as an unregistered national securities exchange.
It was therefore timely that Hassan Ahmed (Country Director, Coinbase) and Nikhil Joshi (COO, Emurgo) sat down for a fireside discussion at the World Blockchain Summit [2].
Titled "Roadblocks to Mass Adoption of Web 3.0 Technologies and How to Overcome Them", the discussion was a rare opportunity to gather the key views from two industry leaders on the current regulatory challenges, and other roadblocks to mass adoption of Web 3.0 – which includes the blockchain technology underpinning cryptocurrencies.  Here are the highlights.
Regulations and clearer rules
"We are excited when regulators see the potential of this technology and they want to harness it for their ecosystem", Hassan Ahmed said, adding that "policy is one of the biggest thing in this space that we have to get right".
Nikhil Joshi agreed, and noted positive engagements with regulators, particularly in Asia where regulators are "much more embracing" to understand the ecosystem developments. However, he cautioned of a potential "round peg in a square hole" situation, given that "this is very new space" which requires a recognition that we "cannot take old framework and apply to this."
Mr. Ahmed also stressed that while "regulatory engagements have gone up a few notches" with Asian regulators this year, "other regulatory regimes providing more clarity" would help the industry "to grow and move forward".
Other use cases than DeFi and cryptocurrencies
Aside from "clear rule books", for further adoption, both highlighted the need to explore the opportunities that blockchain brings, beyond the high profile DeFi ("decentralized finance") use cases such as cryptocurrencies and NFT (non-fungible tokens).
Mr. Ahmed also noted that surveys and statistics such as "monthly active developers" for Ethereum and related ecosystems point to a trend of increasing users "doing things other than trading" and "speaks to the increased flourishing of activities that you can do".  
Specifically, unlike previous downcycle when users and observers asked, "is crypto going to be around?", he said that the key focus for the current cycle is whether the crypto is "just DeFi and financial services, or is it broader than that"?
Mr. Joshi also added that there are current and potential use cases besides trading or exchange activity, that need to be "a lot more education and awareness" at government, corporate and individual level". 
Notably, he said there are "nuances between blockchain and crypto", which could be further underscored by having blockchain infrastructure builders ("layer 1" and "layer 2") "at the table" more with the regulators.
User-friendliness, scalability and security
For further adoption, Mr. Joshi also suggested improving "user friendliness".  This means for example, "doing away with some of the terminology" to make it "easier for people to understand", and a focus on the application rather than how the technology works".
Mr. Ahmad noted the passion and the ethos of the community to continue enhancing the scalability and security of the technology, which would further drive adoption.  "Technology is a breakthrough, very exciting, even though it has been a journey of ten, eleven years, it is still early days", he surmised.
Notes
[1] https://www.sec.gov/news/press-release/2023-102
[2] World Blockchain Summit is held in conjunction with World AI Show and World CX Summit in Singapore (2-3rd August 2023), with over 1500+ key C-level attendees, 100+ speakers, 200+ investors and 75+ exhibitors in attendance.