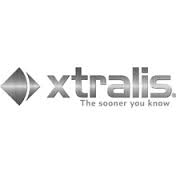 Xtralis has introduced its latest innovation — the ADPRO iFT NVR Plus Series, a family of IP only remotely managed multi-service gateways (RMG) that delivers remote monitoring, management, recording, analytics, and unbreakable transmission for security, safety, business intelligence, and business management capabilities, all at the lowest total cost of ownership (TCO) per channel.
The new series includes the ADPRO iFT, with up to 16 IP cameras, and the ADPRO iFT-E, with up to 32 IP cameras streaming at 5Mbps for the high definition video quality. The iFT Series RMGs will simultaneously run all of the Xtralis' award-winning video content analytics, with up to 32 running on the iFT-E. Xtralis calls this approach 32|32 Vision, combining high quality video streams with world-class analytics and remote response options that can vastly improve or even replace human guards. These systems are powered by the ADPRO XOa 3 SecurityPlus Remotely Programmable Operating System and are the innovation that could also signal the obsolescence of NVRs and other discrete security-only solutions.
The iFT Series join the ADPRO FastTrace 2E and Heitel to comprise the most flexible portfolio for multi-service protection, with both hybrid (analogue & IP) and all-IP solutions. Xtralis solutions offer a remotely programmable "pay -as-you-go" approach easily deployed using Xtralis Xchange, an online licensing portal. Analytics, including IntrusionTrace, LoiterTrace, SmokeTrace and Client Trace can be downloaded and enabled remotely, deploying security, safety, and building intelligence services with just a few mouse clicks.
The iFT Series RMGs provide excellent connectivity, with up to 136 inputs and 132 outputs for facility wide detection, building management and immediate response services, like controlling lighting, HVAC, access, and much more. With Xtralis' unique 2- way audio monitoring and talk-down allow for pro-active threat prevention, by warning threats off before damage is done. When combined with the ADPRO iTrace mobile app, these monitoring, command, and control capabilities provide businesses total control over their facility, from anywhere.
Like the FastTrace 2E, the iFT Series grows with the user as needs change. Expandable and flexible with remote programmability, users will continually benefit from their initial investment, adapting the iFT as needs and conditions change. With all this power and flexibility why would anyone ever buy another NVR, when they could have the solution that keeps on giving. To learn more about the iFT Series and the XOa 3 enabled portfolio of RMG, visit www.xtralis.com/XOa3.