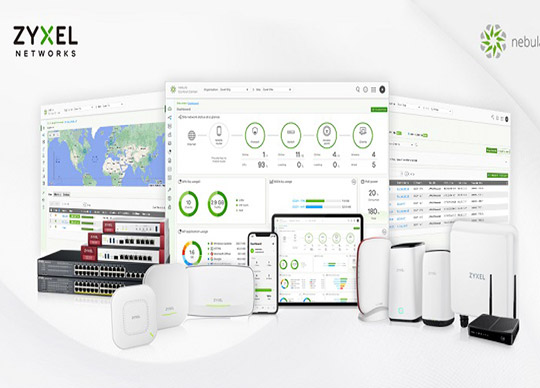 Zyxel Networks has released its new SCR 50AXE – AXE5400 Tri-band WiFi 6E Secure Cloud-managed Router. The device is designed for small and home office users, remote workers, and small business owners looking for a network with best-in-class security and superfast WiFi.
Subscription-free network security
The SCR 50AXE has been designed with security in mind, offering best-in-class security as part of the product, without any extra subscription or licensing costs. In-built and comprehensive threat management features help protect small businesses from ransomware, malware, mail fraud, phishing, intrusion, exploitation, and other attacks, using reputation-based technologies that deliver on performance while consuming less computing power. Additional security features, such as firewalling, country restrictions, IPsec VPN, and guest SSID are also available.
Users looking for even more security and management options can choose to opt-in to the SCR Pro Pack license, including real-time threat intelligence insights, web filtering (DNS) powered by Trellix, 30-day log retention, AI-assisted smart network management, and more.
All threat management features are presented in a graphical security dashboard showing threat insights and providing information on how devices connected to the router are behaving.
Additionally, the SCR 50AXE is cloud-native, meaning it has been created to be cloud-manageable through Zyxel's Nebula platform. By using the Nebula app, users can finish onboarding the SCR 50AXE in just a few clicks and provision the WiFi name to the whole network, including the router and any additional access points. The app also allows users to seamlessly manage their connectivity and security from anywhere, via a single pane of glass, and receive an up-to-date view of their network security posture at a glance.
Mr. Gary Chen, ANZ regional head at Zyxel Networks, says, "The small business market is often overlooked when it comes to network security and management, so we are proud to be offering an affordable solution that brings the best of both together in one device. Combining best-in-class security, superfast WiFi, and cloud management, the SCR 50AXE is the perfect solution for businesses looking to simplify their network management without sacrificing security or quality."