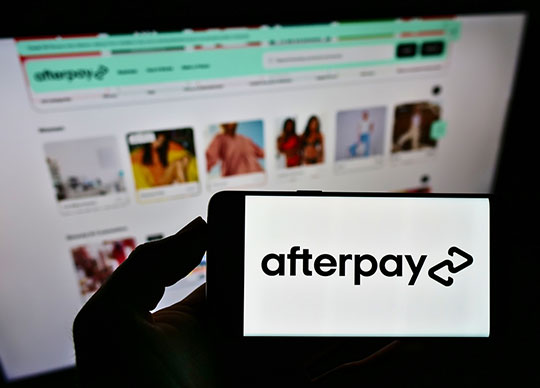 Afterpay's drop has broadened by almost 700 per cent, even as the Australian Buy Now, Pay Later (BNPL) company came near to seeing double their revenues last year.
The company put down most of its deteriorating profits to an increase in financial liabilities, specifically the increased value of options held in its UK operations ThinkSmart. Additionally, it attributed it also to rising share-based payment expenses for its employees, as its stock value skyrocketed. But despite the widening loss, Afterpay's total income increased 78 per cent to $924.7 million.
There was a 63% increase in active users to 16.2 million, as well as 77% growth in merchants to 98,200. As for the company's underlying sales using its service, that posted a 90% rise.
However its net profit margin on underlying sales fell from 2.3 to 2.1 per cent over the financial year.
The Rapid Rise of Afterpay
Afterpay's founders Nick Molnar and Anthony Eisen popularised the BNPL brand to the extent that only a few weeks back the company was front and centre in a $39 billion takeover by Square in the US.
The Square takeover of Afterpay made it Australia's largest corporate takeover ever in this country. Afterpay was listed on the Australian Stock Exchange in only 2016.
Afterpay is a favourite amongst millennials and Gen Z users. These customers have spent a lot more online shopping during the global COVID-19 pandemic. The younger generation is choosing to shelve the credit card system in favour of the BNPL setup.
In the last three years, Afterpay has bolstered its dossier of fashion, beauty and health retailers. It now includes the likes of Pandora, Urban Outfitters (and sister brand Anthropologie), Adidas, Forever 21, Bed Bath and Beyond, and the Kim Kardashian owned KKW Beauty.
What began as a small business run by two men, who happened to be neighbours in their Rose Bay homes in Sydney, now lays claim to over 16 million customers. Add to that as well, approximately 100,000 merchants globally too.
31-year-old Molnar and 49-year-old Eisen, who are already titled billionaires, will become employees of the US-listed organisation Square once the takeover deal is finalised early next year. The pair now also rank in the AFR's list of richest individuals as well as wealthiest bosses.
Tough Competition Ahead for Afterpay
Afterpay's hold is still however small in comparison to Swedish adversary Klarna Group. Klarna, which the CBA has taken a stake in, has almost 90 million consumers covering 17 nations. And it also has 250,000 merchants on its books.
In 2020 Westpac announced a partnership with Afterpay to give the bank the edge of providing its 3.3 million Australian customers with transaction, savings, and other cash management tools.
Afterpay has faced regular regulatory pressure recently. However, ASIC is yet to regulate the sector, the way it has done with credit card companies. Despite standing still on regulating the sector, in a recent ASIC review the watchdog itself found that 1 in 5 consumers using the By Now, Pay Later platform did in fact miss making their payments altogether.