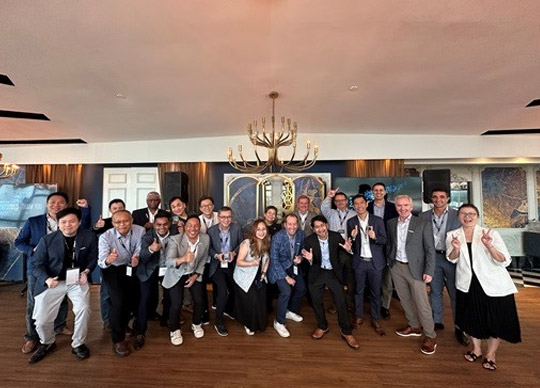 Proofpoint has recognised its top-performing partners during the company's inaugural Break the Attack Chain Roadshow.
Hosted across the Asia Pacific region in Sydney, Melbourne, and Singapore, the roadshow served to educate organisations on the people-centric attacks they face and how to combat these.
Within the roadshow, Proofpoint hosted its annual partner summit, bringing together senior Proofpoint channel leaders and partners to reflect on a year of record success in the face of increasing market demand for innovative and integrated solutions to mitigate cyber risks.
"Threat actors are constantly looking for ways to bypass defences. Proofpoint's 2023 State of the Phish Report proves this, finding a staggering 76% increase in direct financial losses from phishing attacks globally in 2022. This shows that organisations still need to protect their people, data, and brand against advanced threats, data loss and compliance risks by partnering with trusted cybersecurity vendors," said Mark Ablett, Senior Vice President, Asia Pacific and Japan at Proofpoint. "Through our Proofpoint Element Partner Program, we remain committed to equipping our trusted partners with the necessary tools for success. With the Asia Pacific Partner Summit, we also proudly recognise and celebrate partners for their hard work in delivering Proofpoint's unique approach to people-centric security to joint clients."
The following Proofpoint partners were recognised for their dedication in expanding Proofpoint's footprint within the APAC region in the last 12 months:
Australia and New Zealand:
Partner Sourced Revenue: Tesserent Cyber Services
Most New Logos: Lumen IT
Highest NARR Managed Partner: Intalock Technologies
Highest NARR GSI: NTT
Rising Star: CyberCX
Most Valuable Partner: The Missing Link
South East Asia and South Korea:
Top Distributor: M.Tech Solutions (India)
Top Partner: Nexus Technologies
Top GSI: NTT
Best autonomous partner: Tachun Technologies
Best Managed services offering: Internetnow Teknologi
Impact player – Contribution to market growth: Info Security Consultant
Impact player – Best Product Manager: Felicia Utari Sjuku
Impact player – Emerging Distributor: Softde'but
"Threat actors now realise it's more effective, faster, and cheaper to steal credentials and log in than trying to hack through technical controls. As a result, advanced email attacks and identity-based threats are on the rise and organisations need a new approach to break this attack chain," said Sunil Kedaraji, Director, Channel Sales, SAK at Proofpoint. "Proofpoint analyses more human communications than any other cybersecurity company, allowing us to deliver industry-first innovations that disrupt the threat actor's playbook across the attack chain for email fraud, ransomware, data theft, and other risks that matter. This allows our partners to deliver best-in-class protection to their customers in the ever-changing threat landscape."