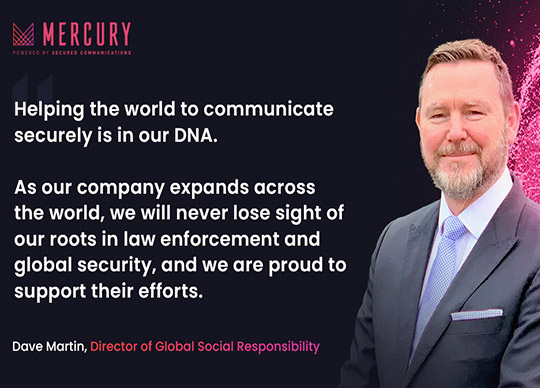 Developed in partnership with former senior FBI and global law enforcement leaders and trusted worldwide for the past six years by counterterrorism professionals, security professionals and corporations, Secured Communications has announced the appointment of former New Scotland Yard Commander, Dave Martin, as Director of Global Social Responsibility to lead its Global Social Responsibility Initiative.
The company says it is giving back to the foundation that it was built on by embracing its responsibility to offer Mercury Workspace technology for law enforcement purposes, public safety and non-profit organizations that are working hard to keep people safe across the globe.
As Director of Global Social Responsibility, Dave will lead Secured Communications' initiative to work with qualifying agencies and organizations to offer special rates for the use of Mercury Workspace to communicate securely.
Dave is an experienced international security professional with over 38 years' experience in the public and private sector, specializing in consultancy, training and advisory services. He is a former Metropolitan Police Commander and held the UK national portfolio for command and control leading development of capabilities to mitigate the most serious security risks.
"I am proud to lead Secured Communications as the Director of Global Social Responsibility. This program offers us the opportunity to give something back and support those who work to keep other people safe," said Dave Martin.
A firm advocate of multi-agency and partnership solutions, Dave has worked alongside the military and government departments in policy development and national testing and exercising. He has written and assisted in the development of policy papers in relation to counter terrorism and was responsible for the design and delivery of a national training program for senior police officers to enable them to command high threat counter terrorism operations.
Over the past eight years, Dave has provided international consultancy and training programs for private clients and government agencies. These have included large scale capacity building programs in the Middle East and Africa, working with partners to help build and sustain capability in a range of skills across the law enforcement and security sectors.
The Mercury Workspace UCC platform includes fully encrypted messaging, file sharing of unlimited size, HD video conferencing and VoIP calling, all secured in one closed ecosystem, using the world's first and most complete implementation of messaging layer security (MLS) to protect every message and multi-factor authentication (MFA) techniques to verify user identity.
Secured Communications' first Global Social Responsibility partner, INVICTM, is an international network of trusted experts dedicated to improving support for victims of terrorism and mass violence. Sue O'Sullivan, INVICTM Chair, had this to say about Mercury Workspace, "The strength of INVICTM lies in the ability to share lessons learned, leverage the knowledge and expertise of its members and their networks; to influence change and turn research into action within our own countries and globally. Mercury offers us the perfect solution with its trusted platform and collaboration tools, giving us the confidence to use it even in the most sensitive circumstances."